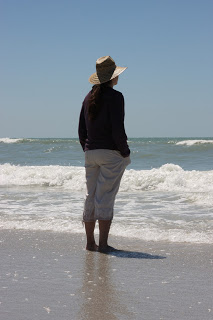 Thought I better put a little update as some of my followers are wondering if my lack of posting is indication of another hospital visit! My answer - absolutely NOT! Our family is currently down in Florida visiting my sister in law prior to her stem cell transplant. She has a little over a week before she "checks in" and I am simply amazed at her spirit and grace these days. Her beauty and her strength humble me. Linda, if you are reading this, know how very loved you are.
In the meantime, we have had the privilege of visiting the beach. Dave took this shot of me on our early morning stroll. I can't go far, and the time I can spend in the sun is very limited - but just to be able to be here is such a gift.
As I think of all of you, I am so very thankful.