Theresa's Yummy Toffee Bars
Non-stick cooking spray

2 1/2 cups all purpose flour

2/3 cup firmly packed light brown sugar

3/4 cup butter

1 large egg, slightly beaten

2 cups semi-sweet chocolate chips, divided

(1 1/2 cup and 1/2 cup)

1 cup coarsely chopped nuts (I like pecans with this recipe)

1 (14 ounce)

can sweetened condensed milk
1 (8 ounce) package toffee baking bits, divided

(4oz, 2oz, 2oz)
Preheat oven to 350 degrees F. Coat 9x13-inch baking pan with non-stick cooking spray.

In large bowl, stir together flour and sugar. Cut in butter until mixture resembles coarse crumbs. Add egg; mix well. Mixture will be dry and crumbly.

Stir in 1 1/2 cups chocolate chips and nuts. Reserve 1 1/2 cups mixture for topping. Press remaining crumb mixture onto bottom of prepared pan. Bake 10 minutes.

Pour condensed milk evenly over partially baked crust. Sprinkle 4oz toffee bits over layer pan. Then sprinkle reserved crumb mixture and remaining 1/2 cup chocolate chips over top.
Bake 25 to 30 minutes or until golden brown. Sprinkle with remaining 2oz of

toffee bits. Cool completely. Cut into bars. Store covered. Yum!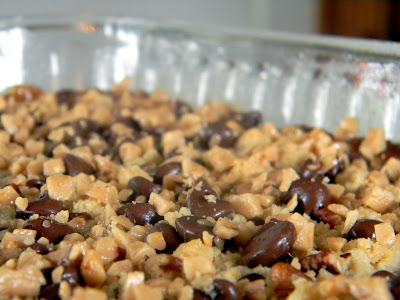 Today is one of those days that I have to work really hard at. To make a long story short, getting off track wit

h my IVIg threw my body into a mild, but relentless, FLARE. Ugh. Combine that with the lovely April snow and I'm working especi

ally hard at keeping things in line both physically AND mentally! I've mentioned this before, but sometimes the best thing for me to do physically, if I'm not "down for the count", is to plan small "accomplish-able tasks". Yesterday was Tupperware, today is a pan of delicious bars! It's kind of like PT and OT all wrapped up into one!
A person can make himself happy or miserable, regardless of what is happening 'outside', just by changing the contents of consciousness. We all know individuals who can transform hopeless situations into challenges to be overcome just through the force of their personalities. This ability to persevere despite obstacles and setbacks is the quality people most admire in others, and justly so; it is probably the most important trait not only for succeeding in life, but for enjoying it as well. To develop this trait one must find ways to order consciousness so as to be in control of feelings and thoughts.It is best not to expect that shortcuts will do the trick."
Oh Mihaly, you make it sound so simple! I think I'll go eat one of those bars...