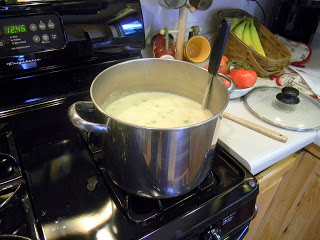 Today was a kitchen day. Feeling better this morning than I have been as of late, I decided that I would get an early start on supper for tonight. If I feel well enough, starting supper in the early afternoon is always a good idea. I am more able to deal with things both mentally and physically, I have more time (since it takes me forever to accomplish a task) plus, it gives my family a break.
With the rain and colder temperatures, soup sounded like a good idea. And home made ham and potato soup sounded especially good!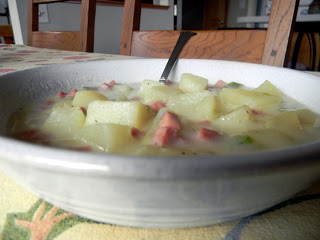 One of the perks of getting an early start on supper...having yummy soup for lunch! This is such a simple recipe, the most difficult part (for me) is just peeling the potatoes. So it can be ready in less than an hour if need be...and you're not me. :-)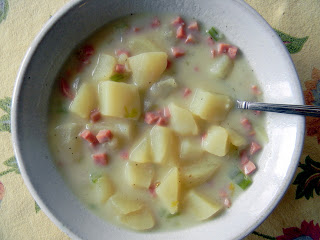 Yep, this is what it looked like right before I scooped up! And no, I did not chop the ham up in nice equally portioned bite-sized pieces. A good short cut for this recipe is to buy a "bag-o-ham" all chopped up and ready to go.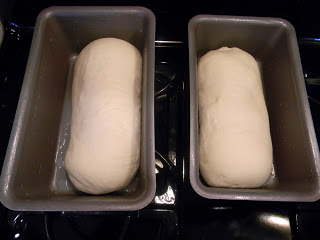 Bread is always a favorite at our house with home made soup. Home made bread would be outstanding...but I must admit, I don't have THAT much energy. Frozen bread does the trick JUST fine!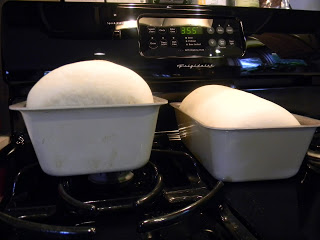 Rising to the occasion!
Kind of.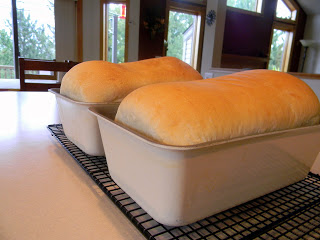 Oh, if you could smell my house now!!
There is nothing like the wafting aroma of baking bread.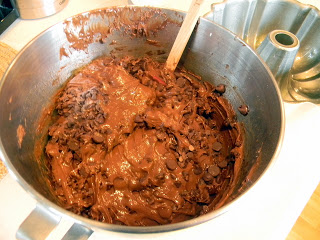 And for dessert...Too Much Chocolate Cake! This is a super easy recipe using a devil's food cake mix. Super easy, and SUPER good!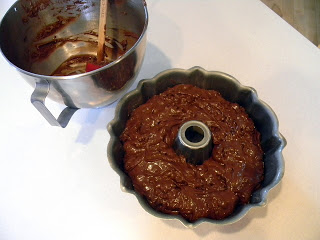 Another perk to starting supper early...I'm the ONLY one home to lick the bowl!!
A little lick.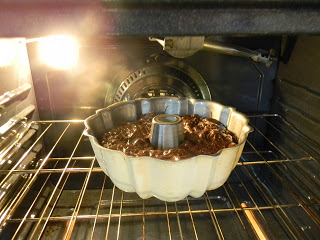 In the oven she goes!
(I had to snap fast for fear I would melt my lens!!)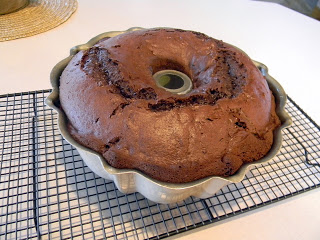 I get so nervous about the "flip". And this one makes you wait over an hour before said flipping!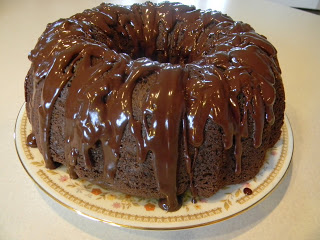 Ahhhh....warm chocolatey wonderfulness. I'm thinking the vanilla ice cream that Dave bought at the store last night will make a fine addition to this yummy dessert. And by the way, dear, thank you for buying groceries last night...again. You are amazing.
Can you say, "carbohydrates"? Mmmm....me too!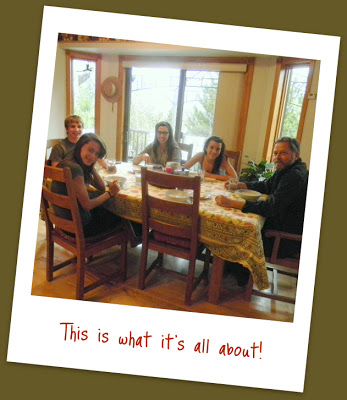 I am so thankful for the days when I get to "be a mom". When this ridiculous disease loosens it's grasp ever so briefly in order that I might enjoy the things I hold so dear.
Today was one of those days.
6 cups peeled and diced potatoes – I like big chunks.

1/2 cup diced celery

1/2 cup chopped onion

1-2 cups and diced cooked ham

5 cups water (should be just over the top of potatoes)

4 tablespoons chicken bouillon granules

3/4 teaspoon salt, or to taste

1 teaspoon ground black pepper

1 cup butter

1/2 cup flour

3-4 cups milk
Combine the potatoes, celery, onion, ham and water in a big pot. Bring to a boil, then cook over medium heat until potatoes are tender, about 10 to 15 minutes. Stir in the chicken bouillon, salt and pepper.

In a separate saucepan, melt butter over medium-low heat. Whisk in flour with a fork, and cook, stirring constantly until thick, about 1 minute. Slowly stir in milk as not to allow lumps to form until all of the milk has been added. Continue stirring over medium-low heat until thick, 4 to 5 minutes. I usually end up with a huge sauce pan full of thick white sauce. I think the white sauce makes the recipe.

Stir the milk mixture into the pot, and cook soup until heated through. Serve immediately. Or, you can make ahead and turn off burner and just let it sit on the back of the stove until you are ready to heat and eat. I like to make mine in the morning and let it sit all day. Soaks in the goodness.
** I am a terrible recipe writer – so this is my best guess at a "pinch of this and a pinch of that"! Like I tell my girls…just do what seems right!
From allrecipes.com (one of my favorites)
1 (18.25 ounce) package devil's food cake mix

1 (5.9 ounce) package instant chocolate pudding mix

1 cup sour cream

1 cup vegetable oil

4 eggs

1/2 cup warm water

2 cups semisweet chocolate chips
Preheat oven to 350 degrees F (175 degrees C).

In a large bowl, mix together the cake and pudding mixes, sour cream, oil, beaten eggs and water. Stir in the chocolate chips and pour batter into a well greased 12 cup bundt pan.

Bake for 50 to 55 minutes, or until top is springy to the touch and a wooden toothpick inserted comes out clean. Cool cake thoroughly in pan at least an hour and a half before inverting onto a plate If desired, dust the cake with powdered sugar or make up a nice chocolate glaze. This time I just warmed up some chocolate chips in the nuke and added some butter and cream. Stir, and drizzle.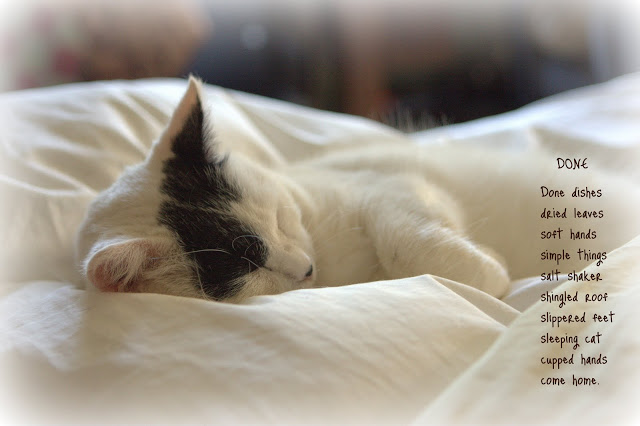 Jenni the cat.