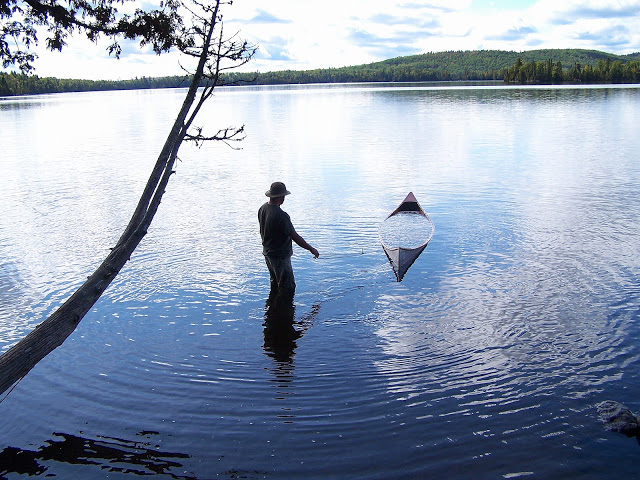 I remember this moment as if it were yesterday. This was our first stop on an island that what would soon become our favorite spot in the boundary waters canoe area of northern Minnesota. We had not been resting long when my husband looked at me and said, "I think I'll try to sink the canoe." The fact that this was my very first canoe trip, combined with the fact that we were a long, long way from any sort of civilization, as well as any cell phone reception, made this comment one of great concern to me. Doing the best I could to hold back any indication of doubt or panic, I simply said, "Why would you do that honey?" He went on to explain to me that all canoes must be tested to see if they float after being capsized. He and his father had tested the canoe many years prior after they had first built it, but since he had re-fiberglassed it recently and made some fixes he had not yet tested it again to see if it would float.
I still didn't like the idea. What if it didn't float? What if we couldn't get it back out of the water? What if we damaged it – this beautiful forty-year-old canoe? What if…? I simply did not want him to do it and I remember a bit of an argument because of his determination to find out. And so, with me standing on shore ready to take a picture of this most sure disaster to come, he gently rocked the canoe back and forth. With each dip the water slowly filled the canoe until only the stern and bow could be seen. And then, in a moment of silent stillness, he stood and waited. Holding tightly to the rope, he watched as the slack let go and the canoe floated gently, barley above the water's surface. The moment captured here in this photo.


My husband has taught me a great deal about fear; mostly, how to respect it and learn from it – and not run from it. It's taken me books upon books to understand something that has always been second nature to him. Reality is exactly that – REALity. It's what's REAL. And it is far better to move towards that which is real than to struggle against it or worse yet, to pretend it does not exist.
This does not mean that life will always be easy. There's risk and vulnerability involved. And sometimes we have to take on a lot of water before we realize whether or not we can float. But it's not until we understand the truth of the matter that we can live in the honesty where joy and freedom reside. It's in this space that we experience this world fully – not holding back, not preparing an escape route, not looking for alternatives – living fully in the reality of the present moment.
*~*~*~*~*~*~*~*~*~*~*~*~*~*
I wrote this post for my facebook page today. Sometimes the idea for what I want to write comes to me with little to no work involved. This often happens when I have been reading something really good or I have had some sort of event in my life that demands my writing of it. And then, there are other times when I go looking. Today was one of those days. I often start by either flipping through some of my favorite books or I begin to scour the thousands and thousands of photos my husband has on file, waiting for something to jump out at me. The flipping didn't work. Nothing seemed to grab my attention. So I opened up our picture warehouse and began my perusing. Immediately, this photo pulled me in.
I've looked at this picture hundreds of times. It's in our BWCA 2008 folder and is one of my favorite places to look. The trip itself changed my life. But for some reason, this picture told me something different today. As is often the case, it told me what is going on inside of me. Which, of course, I did not realize until I finished the writing! Kind of like a dream will do upon waking.
I had a "boat load" of appointments over the past two weeks. It seems like my main doctors reached their six month evaluation point all at the same time. But it was during these visits that I made some rather big decisions. Decisions that came on the heels of a lot of pain and frustration. Decisions based on the potential for serious long term side effects, the ongoing inability to recuperate from chemo therapies and the recent "leveling off" of certain blood work. I have decided once again to try and taper off the prednisone that I have been on for three years as well as taper off the IVIg infusions.
I've tried twice before to taper off the prednisone, only to return back to higher dose due to intense pain and illness. Prednisone is the drug people "love to hate", or so the saying goes. It's a miracle drug in regards to my illness, but the side effects, both long and short term, have serious consequences. But after reading
Coping With Prednisone
by Eugenia Zuckerman and Julie R. Ingelfinger, M.D., I have come to the conclusion that I have not given tapering a fare shake. In a nut shell, it is normal to feel extremely ill during the tapering and for months thereafter. As I gauge what I was experiencing with what seems to be acceptable withdrawal, I have decided that I can give this another chance. But I'd be lying if I did not tell you that it scares the shit out of me.
In regards to the IGIg, this is my thinking. I've been on infusions for well over two years. When I began on them I was not on two of the other major chemo therapies that I am on. I would like to see if these drugs alone can manage my illness. The IVIg was not treating the autoimmune illness itself, it was treating a symptom - the peripheral and central nervous system issues I have been having. The other drugs I am on actually control the illness itself. It could be quite possible that these medications are now keeping things in check and I would no longer need the infusions. And the only way to find out is to fill the boat with water!
My initial reaction to these thoughts as they entered my mind was pure fear. Fear of the "what if". But as I worked through the fear what I realized was that my hesitation in attempting this was based out of my belief that I could somehow control my illness. A control that had become blind to ALL possibilities. Which meant that maybe, just maybe, letting go would bring about something better and not necessarily something worse. Once I realized this, I felt very compelled to speak to my main doctor about it. The appointment went very well and we were both in agreement as to what should be done. Let's see if the boat floats!
So here I am, week three on my first decrease of prednisone and one half infusion later, and I'm feeling pretty shitty - but giving it my best shot! I have to say, I'm not that thrilled about potentially messing up my summer with withdrawal symptoms. But is there really any good time? Nope! No time like the present, that's what I always say!
I do have some exciting news to report!! As many of you already know, being outdoors has always been very important to me. There is no holier place for me than the depth of the woods, surrounded by Nature. I have not been camping since getting sick. In fact, there is quite a dissertation in my application for social security in regards to the things I no longer can do, and camping is a big part of that. There is just no way that I could withstand the amount of work it would take to set up camp, let alone sleep on the cold ground, be without heat or cooling (whichever the case may be) or especially be any distance from a bathroom.
So this is my most recent anniversary gift (coming up on June 4th!)...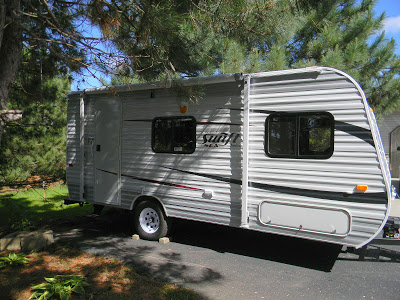 Completely loaded with one of these... ;-)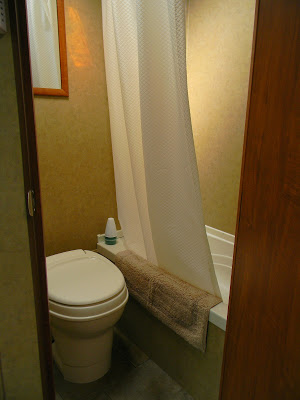 ...and one of these...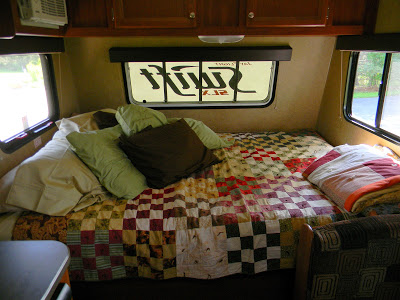 ....and some of these...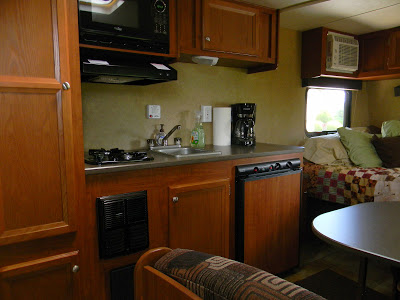 ...and air conditioning...and heat...and all the amenities of HOME, right there in the woods with you!!!
Now, in my pre-illness days, I would have shunned this whole camper idea with all the piousness of a die-hard naturalist. But today....this little home away from home has made my dream of being out in the woods a reality again.
Did I mention I have the best husband EVER?!?! Just can't imagine how I ever got so blessed.
So, our first attempt will be this weekend, about 15 minutes from our real home as to not travel too far away this first go-around. I can hardly wait. Now THIS will most surely give me something to write about!
Until then, peace to us all ~