Not feeling the best today. It was one of those mornings when, rather than to fight against my reality, I decided to let go and just take care of myself. As I type those words, even to me, it seems like no big deal. When you're feeling well, do things. When you're not feeling well, don't do things. Just rest. You're disabled - you get to do that. But when living with "not well" every day of your life, it can be incredibly hard to make that decision. But... today I did. And after sleeping most of my day away, I woke up and decided to watch a little Netflix…and I am so glad that I did.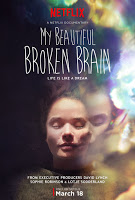 To my friends out there suffering with chronic illness, disability or any life changing health condition - there is a new, absolutely fantastic documentary out there called My Beautiful Broken Brain. It's the self documented story of 34 year old Lotje Sodderlands's struggles, set backs and eventual break through as she relearns to speak, read and write following a major brain hemorrhage.
Prior to having this very traumatic stroke, Lotje was, in her brother's words, "extremely dynamic, extremely social, very impassioned" Highly intelligent, Lotje was a London based film maker who loved all things intellectual and had an intense passion for reading. After the stroke, she lost much of her ability to articulate words and all of her ability to read or write. She described it as if it was like becoming a baby again, yet, intellectually and on some deeper internal level, she was still "there".
What captivated me first, as someone who has had a life changing medical condition and has spent a lot of time in hospitals, was her ability to describe through few words and self documented video, the fear she experienced with being separated from the "real world". Stuck inside a body she no longer understood and having little to no control over what was happening to her. Yet, if you were to walk by her on the street, she looked completely normal.
As the film progresses you see how she begins to transform that fear into a slow letting go, and eventually into an acceptance of her own vulnerability. A journey all people with life changing health conditions go through, if one is lucky enough. And as old age will have it, eventually all are met with the challenge in some shape or form.
But I think that the most poignant part of the film is where she was addressing a conference room full of therapists at the end of the film. She was speaking to them about what has been most difficult for her in regards to working with doctors. She states,
"You [doctors] have to work with somebody who is being assessed and somebody who is being defined by their limitations because that's the only way to figure out how to make them better.

And I think just the experience of continually being defined by what you can no longer do or how you are sort of limited becomes, I think, devastating.

"
It is incredibly devastating. For me, even more so when I was constantly dealing with my long term disability insurance. Not a second of my day was hidden from their scrutiny, either literally or in the form of my own conscience. A constant "proving"…a constant defining. It's inevitable, and takes tremendous daily work to combat. One cannot go to the doctor weekly for seven years without it having some sort of defining influence.
Without giving the best parts of the movie away, she has a statement at the end that resonated deeply with where I am at these days. A place that still does not come completely natural and takes daily thought and effort, but a place I am so glad that I am at. She says, "I don't need to return to my old life. This is the new existence, the new dynamic where I am not defined by my limitations, but rather about endless possibilities."
There's a lot of grieving that has to go on between day one and the present moment. She made this statement at the end of year one. I'm well into year seven and I'm not completely there yet. I still have intense moments of sadness. I still have those days when I know my goal, consciously or unconsciously, is to feel like I felt before getting sick. Every time I go on some sort of "maybe I'll try this diet or this supplement" kick, I know what's behind it for me. A longing to cure myself, to be that person I once was. A dissatisfaction, to the point of not accepting my reality in the present moment. When in reality, no one ever returns to the past. We all move forward from this moment. And in this moment, we ALL have endless possibilities. The healthy, the sick, the old. Until this moment no longer exists for us, the truth is… the sky's the limit.
"

Reality

is what we take to be

true

.

What we take to be

true

is what we

believe

.

What we

believe

is based upon our

perceptions

.

What we

perceive

depends upon what we

look for

.

What we

look for

depends upon what we

think

.

What we

think

depends upon what we

perceive

.

What we

perceive

determines what we

believe

.

What we

believe

determines what we take to be

true

.

What we take to be true is our reality

."
~ Gary Zukav, Dancing Wu Li Masters: An Overview of the New Physics
Peace,
Theresa