"Rest and be thankful." ~William Wadsworth
I have so much to be thankful for these days. Even in the midst of all that is going on with me health-wise, there is never a moment that I am not thankful for all that I have. On two separate occasions now, my neurologist as taken the time to ask me how I am doing mentally. It's an odd moment when a doctor gets quiet and asks you if you ever think about harming yourself, if you are ready to "give up". A moment packed full of emotion - alarm, embarrassment, defensiveness, worry, confusion.. But even with all of that going on, there is a clear and very focused "me" that says, "No, it's simply not an option." I'm thankful for that. I'm thankful that even in my darkest moments I long for life. I long for my family and my friends. I long to live my days, my moments with the man that I love with all of my heart. These things keep me moving forward. These are the things I take rest in.
I've not yet taken the time to really let people know what has been going on with me the past few months. I've eluded to it in my blog, on facebook and in messages to friends, but I've not really been too public about the nitty gritty. Not so much because I don't want people to know. More because we (myself and my medical team) really have not known. And until things become clear, I would rather not worry people. But, as is usual with these situations, it seems to be dragging on so I thought this would be a good time to give a bit of an update.
Last September, after tapering for months, I finally made it "off" prednisone. The first time since becoming ill in 2009. It was a horrible tapering with an even worse outcome. But I was determined to see what happened. I was determined to see if my body could figure things out on it's own. I wanted to know if I could "recover". Quite often when going off a medication, there is a period where things get worse before they get better. I wanted to know if this would be the case with steroids. Well, for me, it was not. I ended up creating an inflammation process, a kind of domino effect, where all of my tendons and muscles were affected. Wherever there was a tendon...I had tendonitis. I could barely walk. Then it crept into my muscle tissue, causing some rather serious conditions, mainly in my left shoulder. Of which I have had various treatments that have been unsuccessful.
Then it began to affect me neurologically. My doctors immediately put me on higher doses of chemo and steroids. For those of you who understand the medication regimen, my cocktail consists of Cellcept, Methotrexate, Hydroxycholorquine, Prednisone and a host of other medications for symptomatic treatment. A total of 37 pills a day and weekly injections.
These symptoms are quite frightening. I began having weakness and numbness in both arms and legs. It then moved into my torso and my face. This was also accompanied by extreme nerve pain all over, but especially in my legs. Nerve pain that would immediately wake me up out of a deep sleep or prevent me from sleeping altogether. Some days better than others. Some days difficult to even stand upright. This, combined with all the tendon and muscle pain, the fatigue, the headaches, the GI problems - well, it became overwhelming. That's what led to the hospitalization in January. It is also what kicked off all the extensive testing, of which I am still doing.
The number one suspect - MS. It's not the first time they have suspected this. Over the years I have been tested and the results have been inconclusive. I have had one "bad" spinal tap and two "good", although they have not been completely clean. I have five lesions on my brain that have remained unchanged over the years. My neurological exams have declined and the nerve conduction tests have slightly decreased, with some new issues. But nothing that conclusively says that MS is the culprit.
So this is where I am at right now. My team of doctors are working together to decided who should take the lead at this point. If there is no new diagnosis to be added, then my neurologist does not want to be the one deciding which medication I should be on. They all agree that something needs to change. The problem with that is that any "new" medication is going to be quite risky for me. It's a step up (or down, depending on how you look at it) on the scale of possible negative side effects and complications. They're just more dangerous to my already compromised immune system.
I'm still in a holding pattern. Things got a bit delayed the past two weeks when my rheumatologist got ill and was out for two weeks. My team has been good to communicate with me every few days, for that I am extremely thankful. It makes a huge difference to know I'm not lost on the radar. There have also been a number of other things that have kept me going during this time.
YOU.
YOU.
YOU.
YOU.
And...then there is YOU. My family and friends. Those near and those far who have continually checked up on me. Those of you who have "liked" my posts on facebook, commented on my artwork, BOUGHT my artwork, sent me messages and cards, stopped by for visits and basically supported me every step of the way. For me, oftentimes captive to these four walls, this outpouring of kindness has literally been what brings me through each day.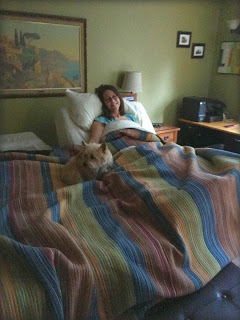 I am so thankful for you. I hope you know that. I hope you know how important you are to me and how much I cherish your friendship and care of me. I was completely bewildered (and overjoyed) by your response to my need for a new bed. Within less than a month, my dream became a reality because of you. And let me tell you, I could write another thousand words about how helpful this new bed is. Immediately I noticed a change. Immediately I was able to get more hours of restful sleep. Immediately I noticed a difference in my waking hours because of that sleep. All because of the compassion of family and friends. You purchased my artwork and in turn, you gave me rest. What a beautiful thing. Truly, truly beautiful and I thank you with all of my heart.
This has been a tough one, that's for sure. And where I go from here is a somewhat worrisome for me. But this I know - I can do anything with my family and friends beside me. To
really know
that you are there.
This I take rest in.
Peace,
Theresa