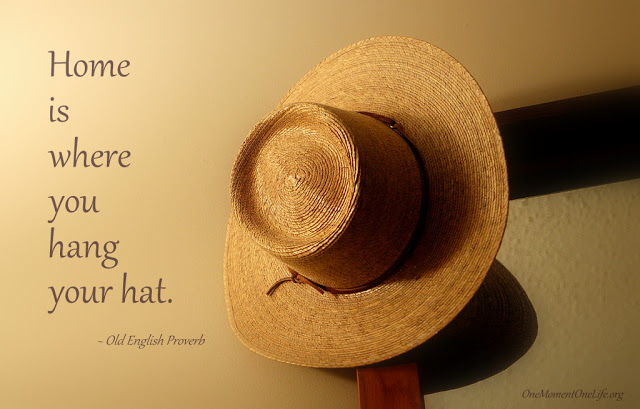 "Home is where you hang your hat."
I love being home, no doubt about it. I always have. Even when I was a teenager, I would have much rather hunkered down with my family in front of a good "made for TV" movie than to be out with a group of friends. To me, home feels good. It feels safe. It feels comfortable when the world seems edgy and rough. It feels consistent when everything else rushes to change.
In this world of striving – striving to be richer, striving to be smarter, striving to be thinner, striving to be happier, striving to be healthier, striving to BE anyone other than who we are in this very moment - in all of our conditioned discontentment, we fail to see that we are exactly
where
and
who
we need to be–
in this moment
. Yet, how can it be anything different? But if we are in a constant state of striving, how will we ever know? How will we ever become aware of the beautiful fact that we are already there?
In mindfulness meditation you intentionally commit to being fully present in this moment, not trying to improve yourself or get anywhere else, but to simply realize you are already where you need to be. You aren't trying to attain anything - not even mindfulness itself. You just accept things as they are. In Wiktionary, the Wiki-based open content dictionary, they give this definition of the Old English proverb, "Home is where you hang your hat".
Rather than feeling nostalgic or sentimental, one should simply accept any place where one happens to reside as one's home.
If we truly come to a place of acceptance about ourselves, if we stop striving and realize that in this moment we are ALL that we need to be, then home becomes a place within ourselves. Home is wherever
we
are, and coming home means a returning to our true selves, a place we are destined for. As the poet Cavafy describes in his journey home to the island of
Ithaca
, finding "home" was not some external place to arrive at, but a place of awakening and enlightenment within.
Keep Ithaca always in your mind.
Arriving there is what you're destined for.
But don't hurry the journey at all.
Better if it lasts for years,
so that you're old by the time you reach the island,
wealthy with all you've gained on the way,
not expecting Ithaca to make you rich.
Ithaca gave you the marvelous journey.
Without her you would have not set out.
I am very thankful for the physical place I call home. But I have also been in a mental state where no matter where I am at; I can't seem to find my way there. In my days of striving to find a diagnosis, I was further from home than I have ever been. Fear is like the kindling of the past fueling the fire of the future we dread. It keeps us moving outward, farther and farther from home.
Letting go and accepting where and who we are is not some sort of passive resignation. It is your intentional invitation to the unlimited capabilities that reside within. When asked why people are afraid of this acceptance, Jon Kabat-Zinn writes,
Maybe the fear is that we are less than we think we are, when the actuality of it is that we are much, much more.
The hat in the above photo still hangs in my home. I bought it during a time of great transition in my life, long before I became sick. I've put it on and taken it off many times over the past seven or eight years, each time hanging it back up on the corner of my mirror or on a hook in the entryway. It's presence comforts me. Seeing it there tells me I'm home.
Right where I'm supposed to be.