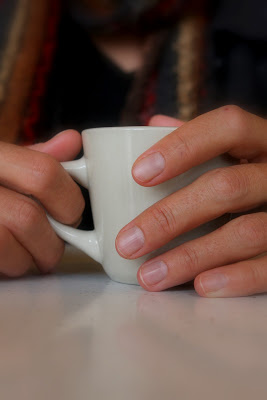 These are my hands, gently cradling a warm coffee cup as I sit across the booth from my husband at the Oasis Cafe. A wonderful little spot tucked in the side of a hill of limestone on the outskirts of downtown Stillwater, Minnesota. Stepping into the Oasis is like stepping back in time...or stepping into your grandmother's kitchen. Old booths, old kitchen, glass pie cupboards, swivel stools occupied by old farmers and spinning two year old's - it's comforting, like a warm blanket or a friend's hug. It always smells like Sunday dinner or Sunday breakfast or just Sunday anything.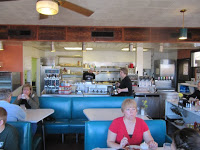 I don't bring much into the Oasis Cafe. No laptops, no books, no emotional baggage or heady to-do lists. And I never go there if I don't have
time
. For some reason, when I settle myself into that green Naugahyde booth the world gets softer. Breath comes easier.
I could go on and on about the food, but I think you get the picture. Everything's home made. Daily specials scratched onto an old black board bring lottery ticket anticipation - $3.95 plus pie! Everyone's a winner.
But my favorite thing about the Oasis is not the coffee or the booths or the meatloaf. My favorite part of being at the Oasis is being there with my husband. Just
being
there. He always looks so handsome. I think maybe, he too, lets go of the world while he's there. Leaving project management and home repair behind, his brow un-furrows as he holds my hand across the speckled Formica table top. Talk is slow, quiet and sometimes not at all.
As I sit here writing this to you, today is the Tuesday before Thanksgiving. By this time I am usually in panic mode, but that was PS (Post Sick) and things are different now. They have to be. Panic is an energy sucking emotion I just cannot afford to have. Some of my ability to avoid this negative mental state is due to changes I have made in my perception of this life. Some comes from learning how to let go. And some comes from just being prepared. Originally, I had decided that we would not be entertaining this Thanksgiving at all. A decision that came difficult, but was necessary due to the aforementioned (previous post) health issues. But thanks to a most dear friend, Thanksgiving
will
be served in our home, although I will not be the one preparing it - she will. Yes, my lovely readers, there
are
angels among us.
So, what do the Oasis Cafe and Thanksgiving have to do with each other? A lot...I hope.
When I think of what I most want this Thanksgiving, when I peel back the layers of hostess pomp and circumstance, when I think of all that matters most to me - it is this... I want an Oasis Cafe Thanksgiving. I want to leave the lap tops, books, emotional baggage and worries of this world outside my front door. I want to really smell the aroma of home cooked food, being mindful of all the hands that planted it, raised it, harvested it and prepared it. I want to feel my connection to this earth - taste the sun and soil from which it came in each and every bite.
I want to look across the table at my family and friends - really
look -
and breathe in the beauty of their spirit. Being mindful of all that they are, of the miles they have traversed, the sacrifices they have made to sit with me in my kitchen. I want them to know how very thankful I am that they are with me. I want them to know how handsome they are, how precious their lives are and how their very being fills me with joy. I want to sit with them, talking slow, laughing hard and loving much. I have missed far too many moments in my life exhausted, stressed, preoccupied with matters such as clean floors, quickly washed dishes and perfect desserts.
This time around...I'm going to have an Oasis Cafe Thanksgiving. I hope you'll join me.
"For each of us food is the source of sustenance,
and when we offer this gift to one another,
we are not only nourishing each other's bodies,
we are feeding one another's spirits.
So receive – and give – the food of your life as the powerful gift that it is."