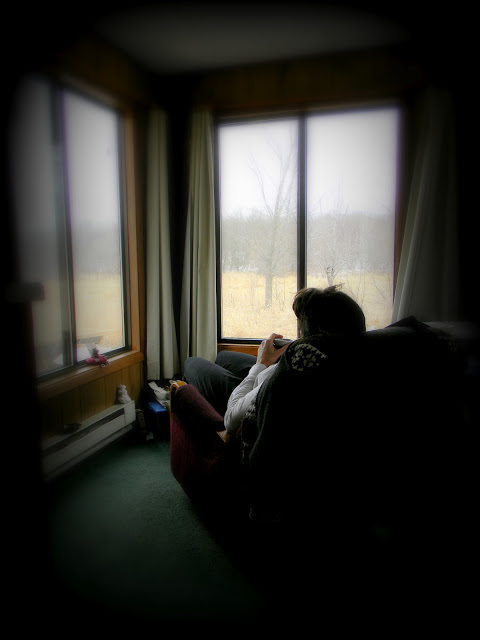 Self Portrait Clare's Well, February 2012
Two weeks ago today, I was on the second day of my visit to Clare's Well. I had very good intentions of writing about my trip as soon as I returned, but to be honest, it's been more difficult than I had anticipated. Have you ever had an experience so moving that you hesitate to even open your mouth about it? The mere thought of trying to grasp all that it encompasses is completely overwhelming, and the only honorable thing to do seems to be silence. I flipped back and forth between writing a summation of my time in Annnandale and simply posting all three hundred of my pictures with the hope that you would just "get it". But neither seemed right. Most importantly...I wanted what came from all of this to be honest. It seemed like that was gift given over the course of the four days. This accounting should be authentic.
I'll warn you - this is going to be long. It is also going to be very real. I apologize right now, if in my attempt to let you into one of the most personal parts of me, I in any way offend - I am truly sorry. This is just me, in all of my humanness, sifting through and plucking away at the pieces of what makes up just one simple women in a very big and beautiful world.
I've decided to type word for word, the journal entries I made while on this trip. No changes, no omissions. I can guarantee you, that if I would have any idea that my journaling would ultimately end up on this blog...well, I probably would not have journalled at all! It just seems, that after reading over things, it's the most honest thing to do. My hope? My hope is that in my struggle, you find your struggle. In my pain, you find your pain. In my joy, you find your joy. In my beauty, you find your beauty. And in the end, you come to realize your own grace, your own purity, your own sacredness...
The Holiness within.
A few pictures to begin...
Painting and sketching supplies.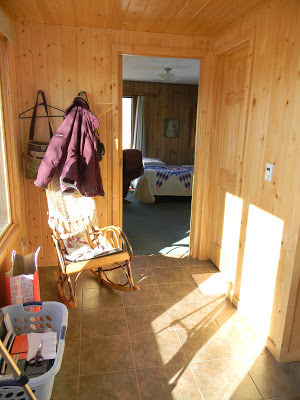 The new porch recently added on to the hermitage - heated floor and all!
This is also where the compost toilet is located, through the closed door to the right.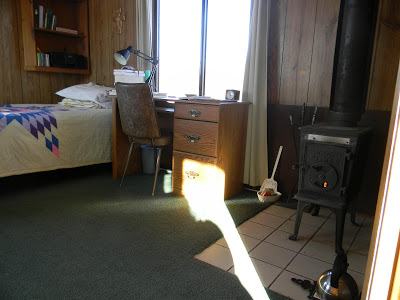 The House of Clare. The smallest of the three hermitages, this holds a special place in my heart.
I was happy to be here again.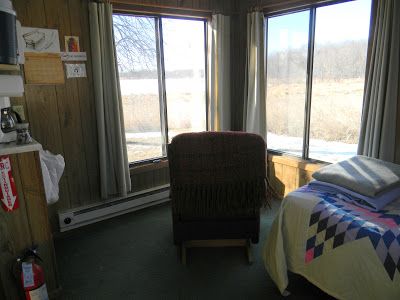 Many hours spent sitting in this space.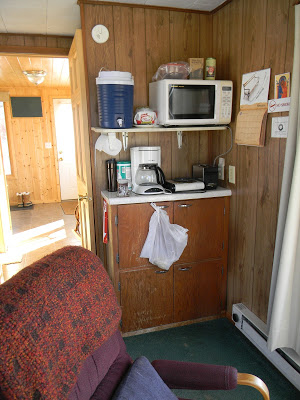 A small kitchen for snacks. Meals are served up at the farm house.
Wonderfully cooked, homemade and organic - there is nothing like the food at Clare's Well.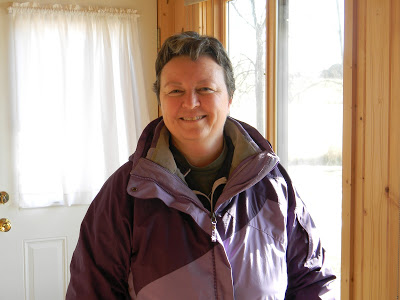 Jeana, my dearest friend and only the second person that I have ever shared this space with.
She came for lunch the first day. A perfect way to begin my stay.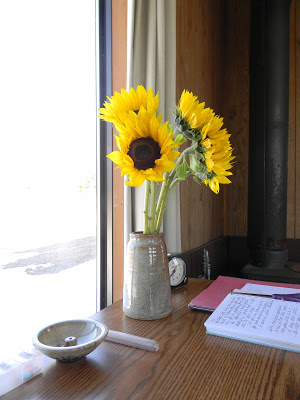 Flowers brought by Jeana.



The day before I got here I saw an eagle. I was laying down in the living room. Feeling very sick from not taking my medication – medication that my mail order pharmacy failed to deliver. It's my chemo. This "glitch" made me feel very sick as well as unsure as to if my trip would even be possible. As I lay there, half asleep, contemplating this and certain issues with my family – I open my eyes to the speck of an eagle in the corner of the window. The sun illuminating its head. In all the universe – my speck of a window.

Having my usual first day. Maybe a bit more difficult because I am sick. Having a hard time adjusting. Missing Aleela so much. Even writing the words makes me cry. Maybe I just need to cry. Missing Dave. Missing the girls. Missing the dogs, the cat. NOT usually the case. The fatigue, sinus pressure, headache making it difficult to concentrate. Hard to write. Hard to envision being creative. So that makes me sad.

Supper soon. Went out for a walk around 4:00 or so. Very cold and windy. Below zero windchill. Brought Daniel's snowpants. Toasy warm. There were men working on the footbridge replacing old boards. Easier job when the creek is frozen. I wasn't afraid of the woods. Maybe because the winter makes them transparent. Maybe because the men were there. Took pictures. Then the camera froze up. That's okay, fingers not working. Wanted to walk out across the lake but too chicken. Some things never change. Maybe I'll look at the pictures before I go. Oh, as I was napping today I realized I forgot the Ipad. I really wanted the computer to write, but gave it up for Dave. Now I don't even have the Ipad. I'm thinking it was not meant to be – as "panicky" as it made me – a bit angry even. The hand it is! Maybe this trip was supposed to be about me.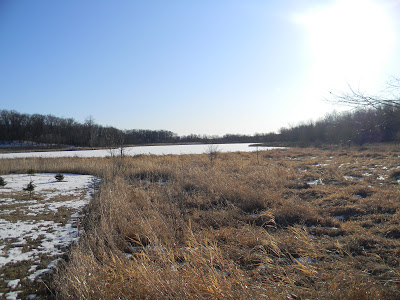 The view from my hermitage.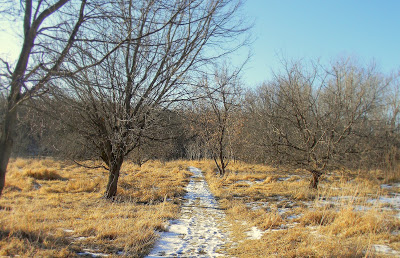 Walking into the woods.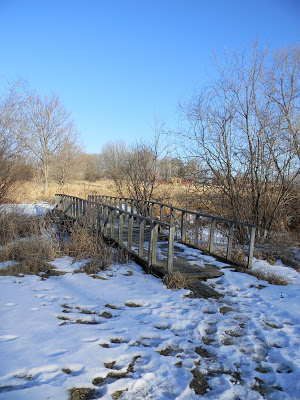 The footbridge leading into the woods.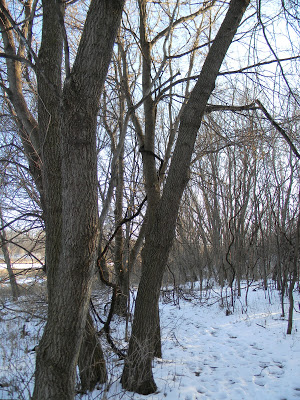 Transparency.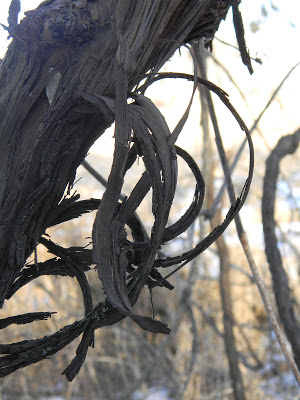 The curve and beauty of age.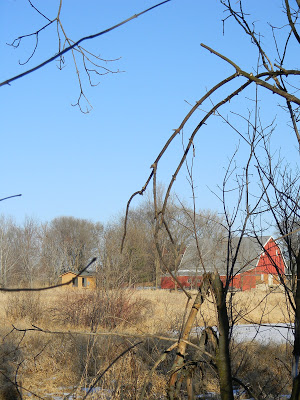 The House of Clare to the left of the barn.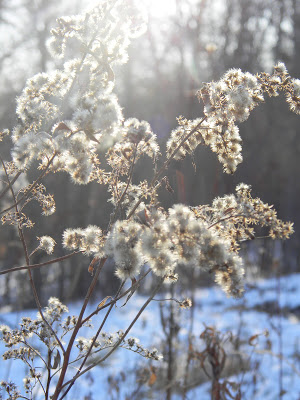 Delicate.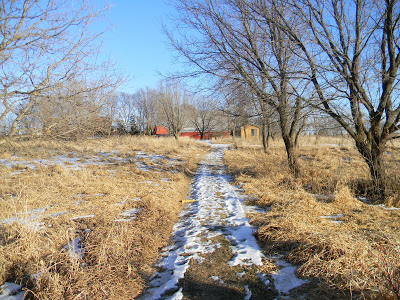 Walking back to the House of Clare...home.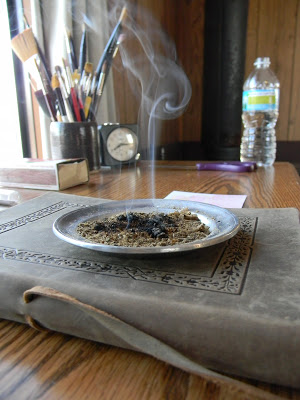 Havan Samagri..."sacred dirt."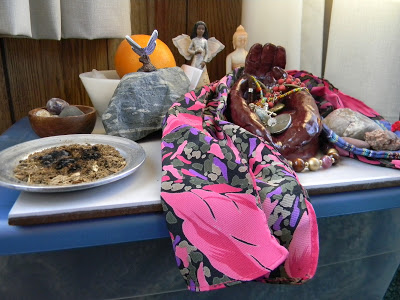 A lifetime of treasures. Stones filled with the the oldest souls of this earth...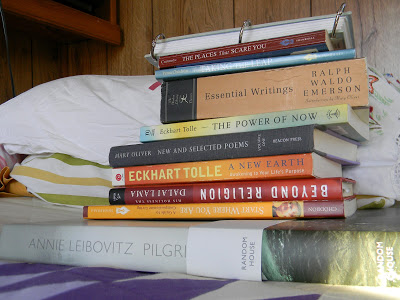 A few old favorites and a few "in progress".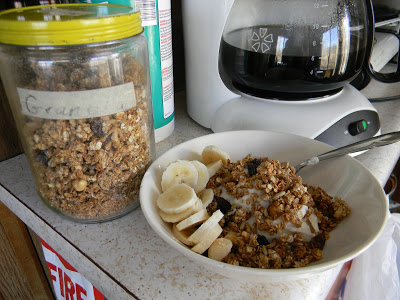 Homemade granola, fruit, yogurt and organic coffee...heaven.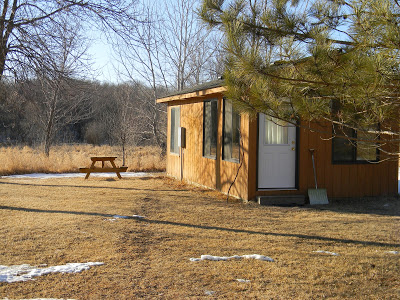 Home sweet home.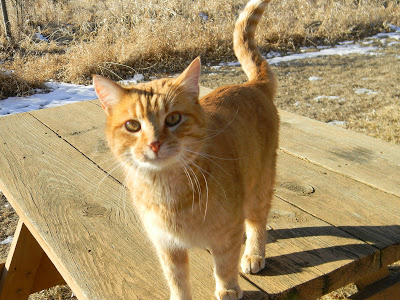 A friendly hello!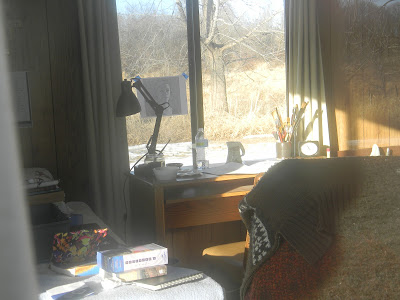 Looking in.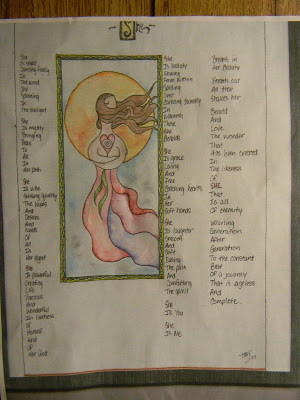 A copy of a painting/poem I made for Sister Agnes before she died.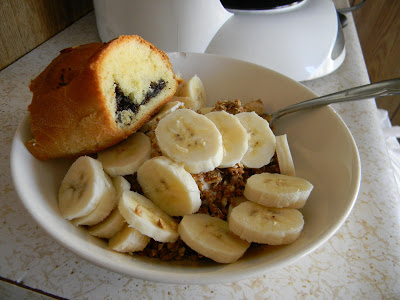 Homemade poppy seed bread...a delightful addition!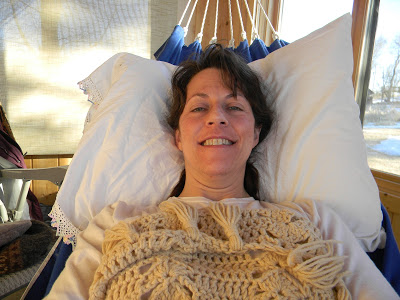 Me...completely and utterly content.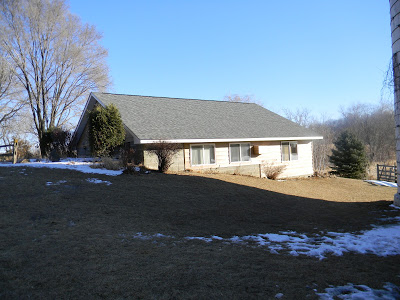 The back side of the wellness center.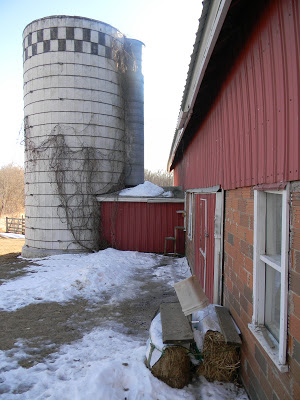 Inside warms a host of chickens, a not so sociable cat and a momma goat.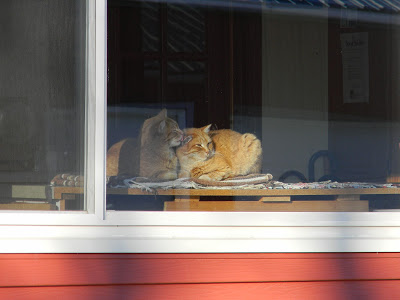 Ah ha! There are TWO of YOU!
Inside the front porch of the main house. That's as far as they get!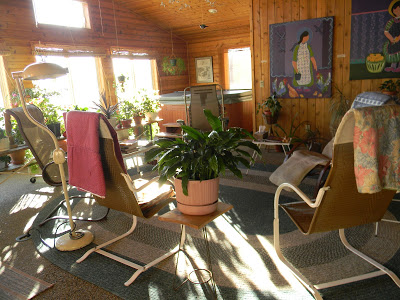 Pictures from inside the wellness center. A warm and inviting, very peaceful place to sit for reflection.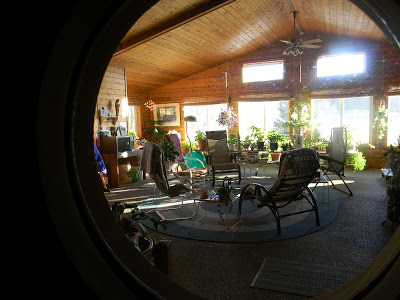 Looking out from inside the sauna. Of course, it was NOT on!
Lupus and heat are not a good match!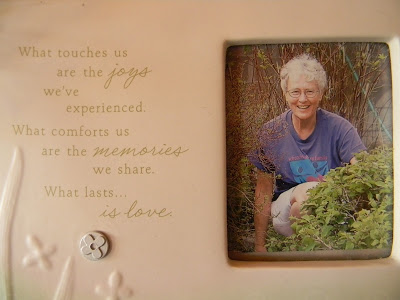 Sister Agnes, you are dearly missed.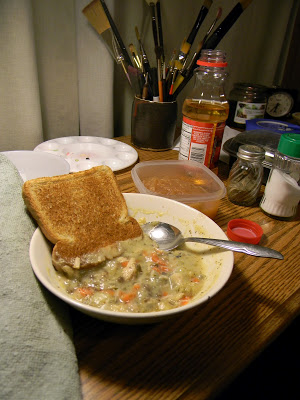 Sunday evening meal in my hermitage. Leftovers never tasted so good.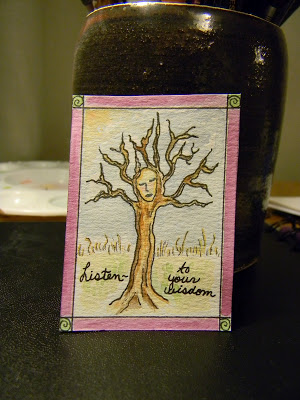 I decided to make some very small bookmarks and hide them
in some of the books in the House of Clare.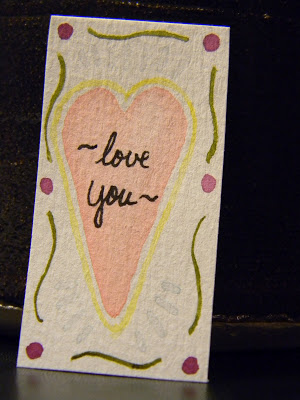 This one is maybe twice the size of a postage stamp.
I wanted to dedicate some of my quiet time to Sara, one of my twins. So I decided to paint her.
Still quite unfinished, I decided to give a "sneak peek"!
There are very few times that my hands work well enough to do this type of work,
but lucky for me - I found a few hours where things seemed to cooperate.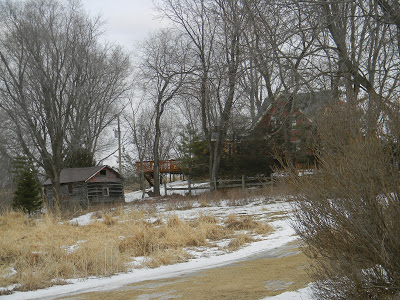 The view from my porch.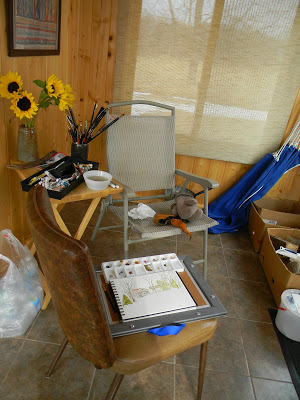 My chair looking out the porch windows.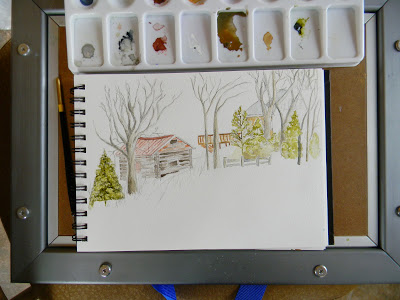 Fun work. The rules when painting in this book are...NO RULES - MISTAKES WELCOME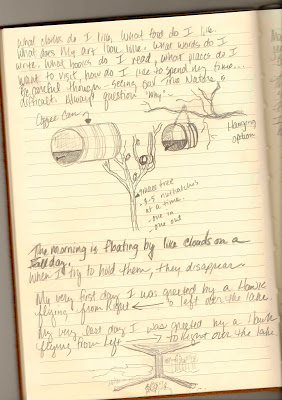 A snapshot of my journal.
This is the tree that held the bird feeder - which was right outside my front window.
I quite often sketch things so I don't forget.