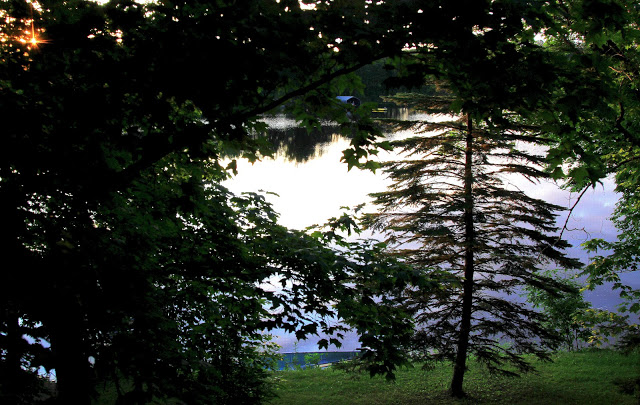 The view from our bedroom door/window.
Last week my family and I spent seven days in a cabin on an island in northern Minnesota. We found this Shangri-La two years ago and honestly thought we would never be fortunate enough to experience it again. But as luck would have it, there was a cancellation the week of the Fourth of July and the caretakers offered it to us on a whim. At nearly 11pm on a cold February night I responded to the email without question, "Yes! We will come!"
Six months passed and our allotted time finally arrived. On the heels of a week full of family visiting from out of state, we took off for the island exhausted and ready for the quiet peacefulness offered by a small piece of land completely surrounded by beautiful clear lake water. With our first visit back in 2010 vivid in my mind, I could hardly wait to sit out on the deck in the cool breeze, read the books I had brought, fish the abundant waters, fill myself on camp food and nap whenever the need arose.
The day before we were set to take off, John (of John and Kim, the owners/caretakers) called us to warn us that they had had record rainfall and that the lakes were at least three feet above their normal levels. There were no beaches and most docks were completely under water. He assured us that he had created a makeshift solution and we should have no problem getting onto the island. John, the eternal optimist.
When we arrived at the mainland dock, we were immediately amazed at the height of the water. He was right, there were no beaches and everyone's docks were under water. What we also noticed was that due to the damming of the lakes being fed by the Mississippi, the waters were full of tannin. Tannin is humic acid that is left in the water from decaying vegetation, primarily leaves. Our clear lake water looked like root beer – dark, dark brown with a reddish tinge. On a positive note, as John put it, "it's as warm as bathwater". And it most definitely was!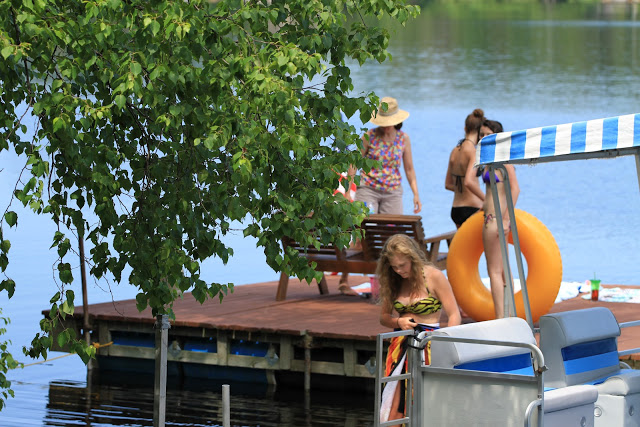 Our first day on the island.
Our first day there was mostly spent setting up camp and running back into town for groceries. Our week would eventually include my oldest daughter and her family as well as my parents, so this food haul would be a big one – about $500 worth. Running to the store is no easy endeavor when you are on an island, so we wanted to get everything all in one trip. Being that our day started around 5am, we had traveled over half a day to get there and the temperature was creeping near 100 degrees with high humidity (no air conditioning in our vehicle or in the cabin) – we ended our first day absolutely exhausted. I use the word "we" very loosely as I did very little of this work. Just managing to stay cool and not get sick was my number one priority. This was Saturday.
Sunday was another very hot and humid day. As the afternoon approached the skies turned a thick dark gray. With a storm on the horizon we told the girls that we could go out on the pontoon for only a short while. I think we left around 6pm. After less than an hour of fishing, Dave gave the two-minute warning. Not wanting to end our first trip short I joked with, "Ah, just five more minutes?" Nope, we're heading back. There was to be no discussion.
You hear stories about people not having time to react when bad weather hits. I've learned not to take this fact of nature lightly. When we arrived onto the island we walked up the hill toward the cabin. I noticed that the girl's suits and towels were still hanging on the line. I told Dave he should grab them so that they don't get all wet. As he walked over to the line I noticed this wall coming across the water. It was not a wall of rain. It was simply a wall and it was coming fast. I yelled at him to leave the suits and come into the cabin. We barely made it into the cabin and the floor began to shake.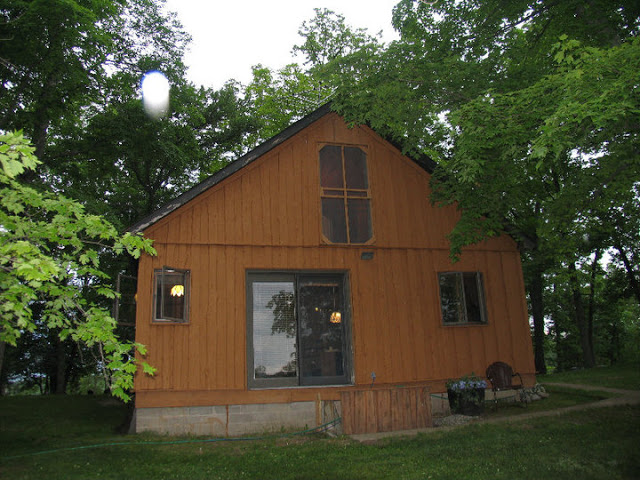 The cabin.
There is no basement. The cabin sits atop a hill on a cinder block foundation. The only place for us to go was to situate ourselves in front of the stone fireplace on the opposite side of the wind. Before we could even get huddled together on the stone ledge the trees around us began to snap. Some being pulled completely out of the ground, others were snapping off half way to the top. The noise was like nothing I have ever heard. For our teenagers, the whole ordeal was somewhat like a roller-coaster ride. Nervous laughter filled the air. For me, wisdom and experience made this the most frightening storm of my life. In a matter of less than ten minutes, our peaceful island looked like a war zone.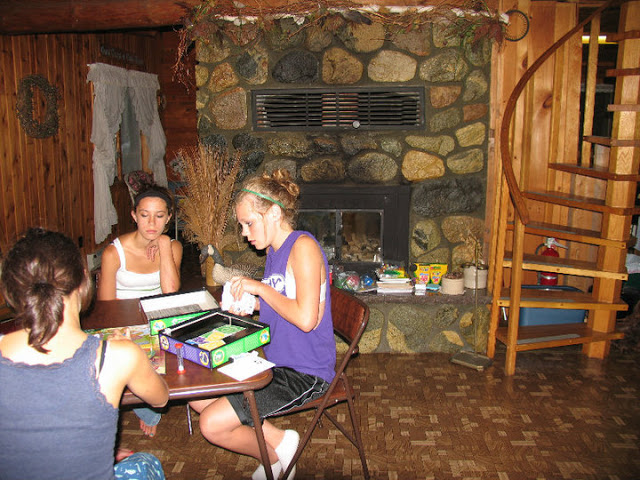 This picture was actually taken on our 2010 trip, but gives you a good idea of where we sat during the storm.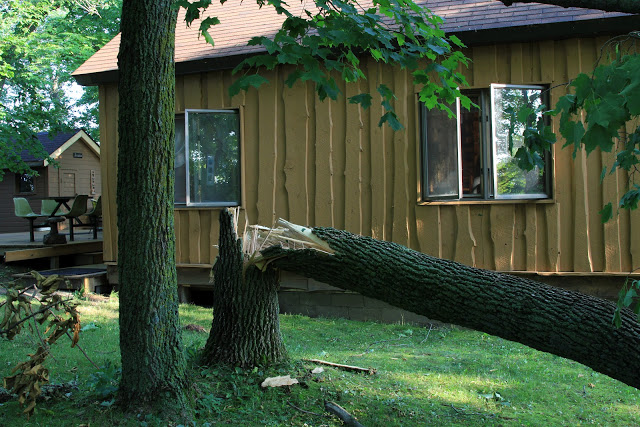 We were standing in front of the window to the left just as this tree went down.
Every building was spared. Not one tree fell on a roof. The largest tree fell right on top of the clothesline that Dave had been standing at when I yelled for him to come in. It literally fell right between the two trees that were holding the line up. For the next couple of hours we sat in the dark as storm cells passed through. Around 11pm we heard a faint voice calling out in the dark, "Is everyone okay?" It was John! Somehow he had made it on his barge/pontoon across the lake. As my husband said that night, he looked like the old man and the sea. Covered from head to toe in rain gear and a small headlight attached to his forehead, he came walking toward the cabin with coolers and ice in hand. By nights end he had supplied us with a place to put our food and lamps to see by. Night number two, we fell into our beds exhausted and hot, barley sleeping in order to keep our ears open for the next storm cell. That was Sunday.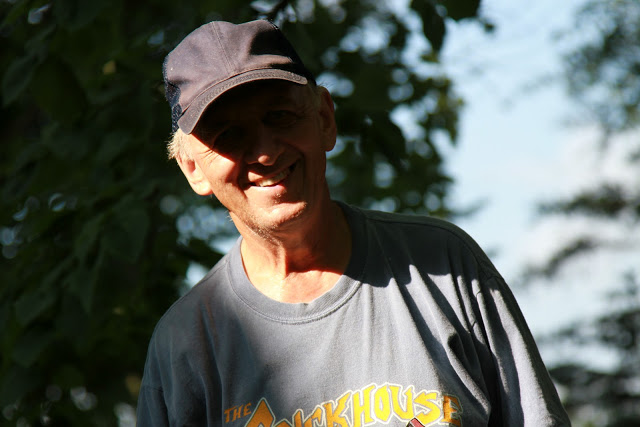 John, the day after the storm hit.
This is the tree that went down on the clothesline.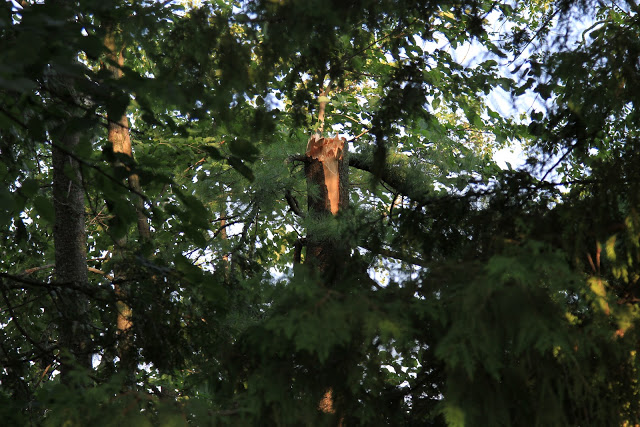 One of the trees that snapped in the middle.
Monday morning John and Kim arrived with their good friends Ed and Gloria. The kind of friends that you can call at midnight the night before that hop in their car, no questions asked, and drive for hours with chainsaws in hand in order to help you out in a bad situation. The kind of friends that spend the next two days from sunrise to sunset in stifling heat and humidity cutting, lifting and raking all the while with smiles on their faces and laughter to ease the pain. All the while making sure we had what we needed – even a generator to run the fridge and water pump so we could have water to drink and a toilet to use. Remember, everything has to come over by boat. And once here, has to make it's way onto the island and up a hill – a hill now covered with fallen trees. I've never seen people work so hard. That was Monday and Tuesday.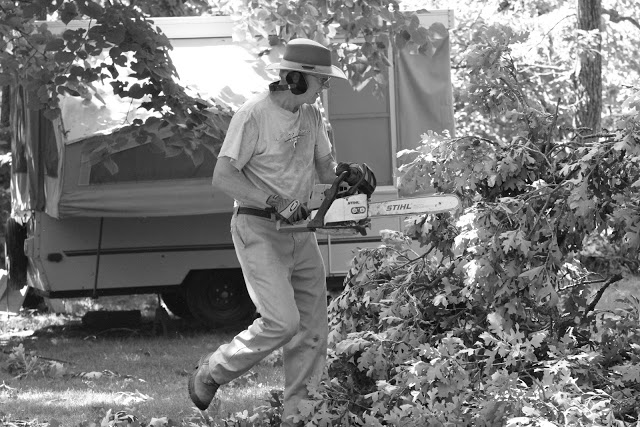 Ed, making his way through the next tree.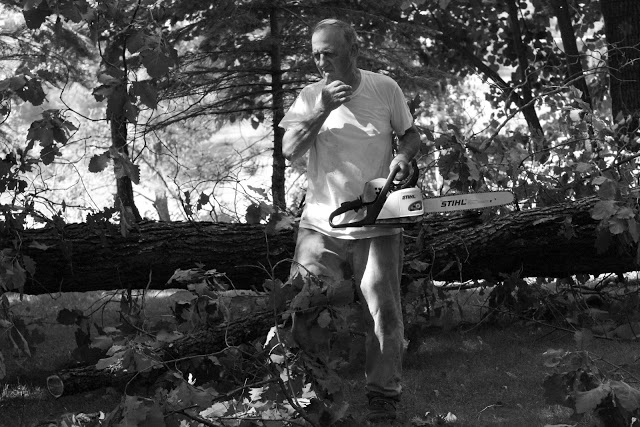 John..."Everything has a process." And so it does.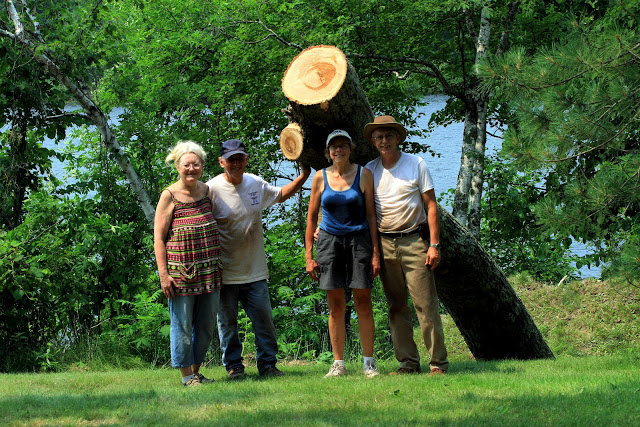 From left to right: Kim, John, Gloria and Ed. "The Fearless Four"!
By Wednesday the sky had cleared and the electricity seemed as if it was going to stay on. Finally, we could cook, see clearly at night and run our fans! I called my daughter as well as my folks and told them that they might want to consider staying home. Even though the storm had finally moved out, it was hot and the electricity situation was sketchy at best. Neither took me up on the suggestion. By Wednesday morning Aleela, Keith and baby Adella arrived. By Wednesday afternoon my parents stepped foot on the island. By Wednesday evening the second storm was on its way. This one forecasted to be worse than the first, 80+ mph straight line winds, damaging hail and lightening. This time we all barely made it off the island. Thankfully we had rented my folks a motel room in town due to the heat, so we all headed that direction. Let me tell you, I was in complete panic mode. When Keith notified me (he has satellite internet service on his phone) that the storm was on its way, my heart just sank. How could we have put all these loved ones in this danger? Why didn't I tell them all to stay home? But there was no time for remorse, we packed up the bare necessities, ran down the hill and boarded the pontoon. Every second we were on that water seemed like an eternity. All I could imagine was that wall coming across the water again. There was no way we would stay afloat. Once again, we barely set foot on shore, ran up to our vehicles and the wind hit. Branches blowing across the road we sped towards town. We waited storm number two out at the Timber Lodge Hotel and by nightfall we were back on the island with no electricity. That was Wednesday.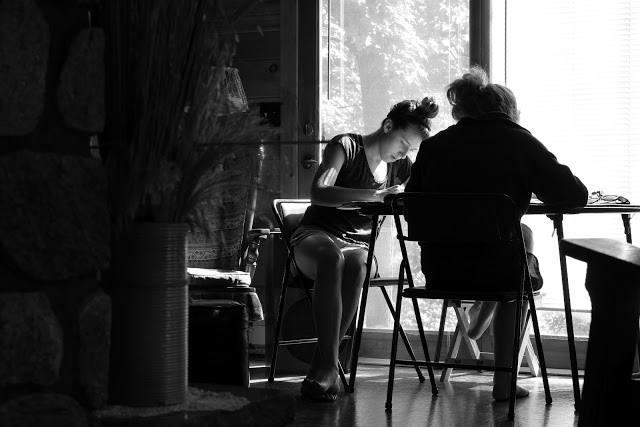 Emma and Leslie coloring by sunset.
Thursday the heat and humidity moved out and we had a simply lovely day. My parents had purchased a one-day fishing license and Thursday was the day. We spent the morning and the better part of the afternoon under the shade of the pontoon canopy pulling up sunfish barely big enough to swallow a hook. And swallow it they did! Most of our catches were thrown back in only to be gobbled up by the eagles that surrounded us. One keeper in all, but it was a perfect outing. It's been years since I have fished with my mom and dad. I will cherish those hours for the rest of my life. As our luck would have it, for some random reason the electricity went out again Thursday evening. There were thousands still with out power, so my guess is that whatever the fix was, it was temporary at best. That was Thursday.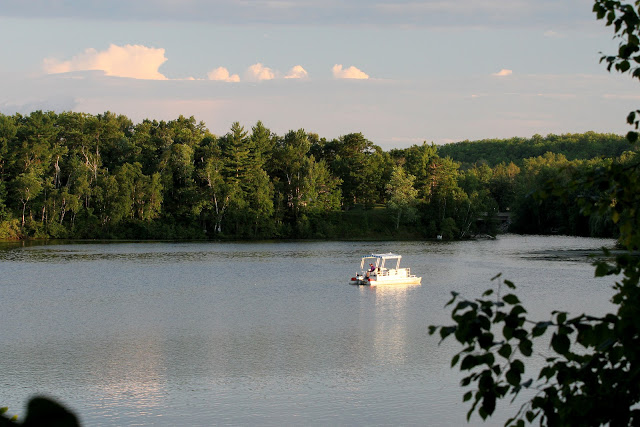 Keith, finding a few hours to fish between storms.
Friday we awoke to extremely overcast skies, torrential rain and no electricity. It rained all day. The temperature dropped significantly and the cool breeze made it sweatshirt weather. A welcome change!! Thanks to Aleela and her ability to make just about any situation fun, the teenagers had a wonderful last night at the cabin. They stayed up late playing cards and pictionary and I was lulled to sleep by the sound of their laughter floating up the stairs to our room. That was Friday.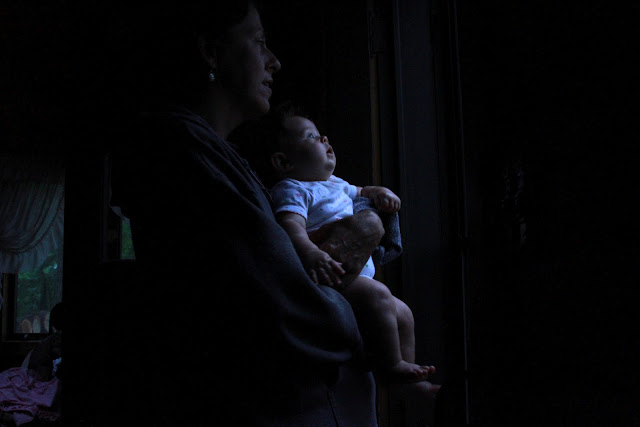 Adella and I, watching the rain at 5am, waiting for the electricity to return.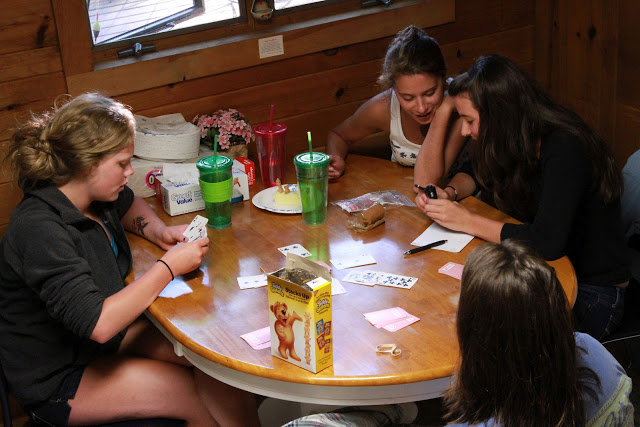 The girls playing cards Friday night.
Saturday morning we all awoke at 4:30am with my granddaughter Adella. She was to be the alarm clock and with perfect timing she awoke on schedule. By 6:30 they were packed up and back on the mainland and by 7:30 we were in our van and heading into town. As we rode our fully loaded pontoon back to shore the weather could not have been more perfect. The air was crisp and still, the water like glass, the sky deep blue and the loons, not more than 20 feet away, calling back and forth to each other to greet the morning and bid us our farewell. It was surreal. No one spoke. There was only listening. There was only that moment, in that place, in that time.
I'm pretty sure if I could have listened into the minds of my teenagers I would have heard quite a different "tune" than what I was experiencing in that moment. By day three they were asking if we were going to stay or go home. Roughing it is not exactly a 16-year-old's idea of a vacation. Although, if they admit it or not, they had their moments of fun. Moms know these things.
So here I sit. It's Wednesday of the following week. We've been home four and a half days and I'm still recovering. I think adrenalin (and pain medication) kept me going and it was not until we arrived home that I realized the toll the past two weeks took on me. Thankfully there was literally nothing for me to do when I got home. Our daughter Anna stayed back this trip due to work, and made our homecoming simply delightful. Once she heard how the trip was going, she made it her goal to make sure I was able to rest the minute I walked into the door. The house was absolutely spotless, the plants and gardens watered, the laundry done, the refrigerator stocked, the garage clean, the sheets changed…she didn't miss a detail – even a welcome home sign on the kitchen whiteboard. It was a gesture of love and compassion in its truest form, and I was moved beyond words. This is my daughter, Anna.
I knew I wanted to write about the week eventually, but for the first few days I really struggled - one, because of pure exhaustion, and two, because I really did not know what or how I wanted to write. I wanted to recount the week and its details, yet something was pulling at me, as something always does. Something bigger.
As life will do after any vacation, it hit me pretty hard. Even though our time on the island was full of it's share of struggle and daily maintenance, it was still a reprieve from the "norm". And despite the coming and going of weather and electricity, there were moments pregnant with beauty and all that nature sings to our hearts in the spaces of stillness. These minutes were enough to carry me away from the pain of illness, to empty my mind of the family crisis and struggles left behind back home and to bring me comfort. There were times when even though I felt like I was literally drowning, there was peace to be found under the water. The peace that comes when you give up the struggle only to realize that you can float. The peace that comes when you stop fighting against what "is".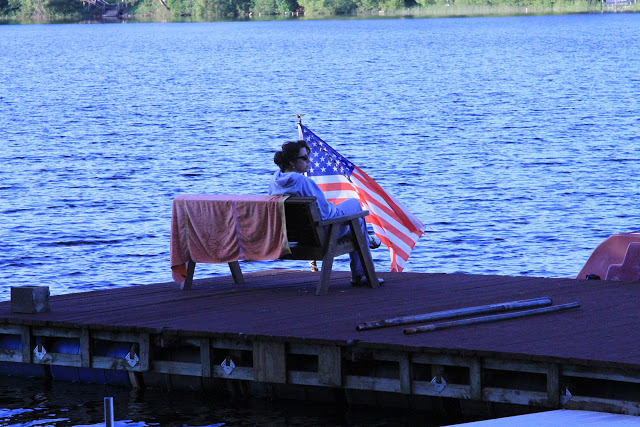 Enjoying the last evening on the island after the rain cleared.
This is the lesson I brought home with me. I didn't realize it at first. When life "hit" and I lay in bed crying, filling my head with stories of "I can't" and "this is too much" and the pain of things I have absolutely no control over came rushing in like the flood waters up north – I finally just let myself go under. Like the moment Dave looked at me during the first storm and said, "Honey, this is all we can do" – I just had to let go. And you know what – I float. When we stop struggling, we float. We just need to rest enough of ourselves below the surface of things until we find ourselves upheld. Believe me, this is not an easy thing to do. But the heart of trust is believing you will be held up when you let go. It's only under the surface that we become weightless and things slow down. This letting go - this is faith. That we cannot stay under for very long only affirms that we must let go again and again in order to live life to its fullest.
Why didn't we just head home after the first storm? That seems pretty obvious to me now.

Peace,

It's a little bit funny...
(for Sara Jane)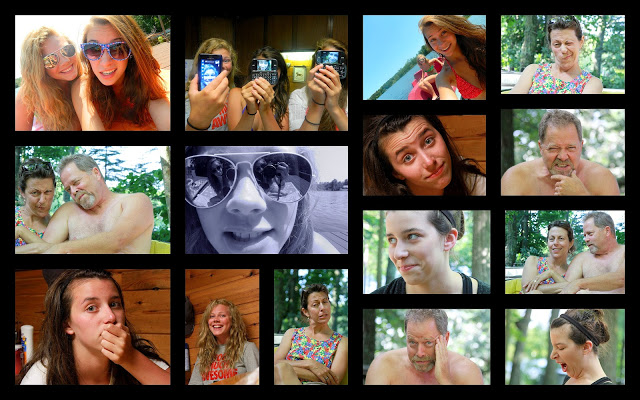 It's a little bit funny this feeling inside
I'm not one of those who can easily hide
I don't have much money but boy if I did
I'd buy a big house where we both could live
If I was a sculptor, but then again, no
Or a man who makes potions in a travelling show
I know it's not much but it's the best I can do
My gift is my song and this one's for you
And you can tell everybody this is your song
It may be quite simple but now that it's done
I hope you don't mind that I put down in words
How wonderful life is while you're in the world
I sat on the roof and kicked off the moss
Well a few of the verses well they've got me quite cross
But the sun's been quite kind while I wrote this song
It's for people like you that keep it turned on
So excuse me forgetting but these things I do
You see I've forgotten if they're green or they're blue
Anyway the thing is what I really mean
Yours are the sweetest eyes I've ever seen