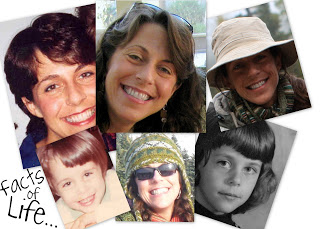 Here we are again. I think the combination of not working and the good old "lupus fog" has a tendency to melt all my weekdays together. As I look at my empty pill organizer, I am dumbfounded at how quickly a week passes. As I see my family out the door on Monday mornings, it seems like the week will never end. For those of you in the Monday through Friday work-a-day world.... Happy Friday !
This week has been a little rough on me. Still moving down on the prednisone dosage - thank goodness - but it sure does cause a bit of a ruckus with my immune system. Hair falling out, painful joints, relentless fatigue, infections, nose sores, mouth sores and plain old feeling like I have the flu are my complaints du jour.
At first glance, it looked like I was taking a shower with a small squirrel this morning. I marveled at how quickly the shower filled up with water and contemplated the combined strength of hair. Kind of like spider silk, both are made primarily of protein. "Silks tensile strength is comparable to that of high-grade steel and about half as strong as aramid filaments, such as Twaron or Kevlar (3000 MPa)" according to Wikipedia. Maybe I should be saving the stuff. Nope, that's just gross.
To cut down on the accumulation of dust, pet dander and the like, we have decided to pull up all the carpeting upstairs and lay down wood flooring. Right now most of our upstairs is already wood, but this will finish the job off. My husband is wonderful at these sorts of jobs and I can hardly wait to slide across his finished work. But ohhhh....I am so not ready for the mess. I'm sure you'll here about it this next week...
SO, on with the show!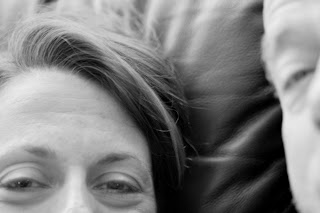 Fact #1:
Dave and I met in the year 2006. We both had been married previously for 22 years. I met him on
eHarmony
. A fact I always kind of kept to myself. But as time went on, the product proved itself so significantly in our lives that I would actually consider doing one of those sappy commercials. There are no words to describe my love for this man.
THIS
is the very first picture ever taken of the two of us together. Nice, huh? I could have picked a better one, but it would not have been the "first".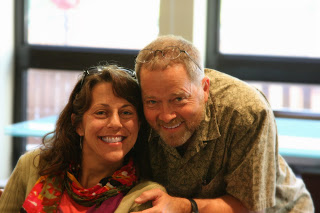 THIS
is a more recent picture of Dave and I. It was taken in a studio in northeast Minneapolis during
Art-A-Whirl
. It's the one and only time that we have been in a show together, Dave with his photography and me with my paintings. It was a spur of the moment thing, neither of us had planned for it. In fact, most of my paintings were years old. But it was a dream come true and I look forward to the day when we can do it again.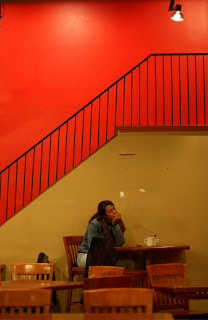 Fact #2:
I love quirky eclectic coffee shops. We have two that are our favorites. The one to the left is
Nina's
, in St. Paul, MN. It's hands down
THE BEST
we have ever been to. An added contributing factor...it's where we hung out together most of the first year we knew each other.
One of the great perks to having a photographer as a husband is that you have your own paparazzi. Dave loves catching me unaware. In this shot (taken the week we met), he had gone outside to take photos and snapped this one of me through the window. I remember the night like it was yesterday. A quiet weeknight, Sneaky Pete playing guitar and Nina's very own blend. These are the memories that fill my heart.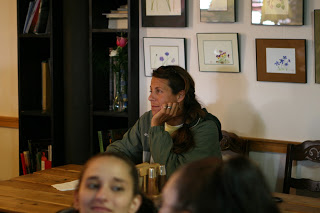 Our second favorite is
Amazing Grace
in Duluth, MN. Known for it's
AMAZING
bread and
AMAZING
all organic menu, this place sits in the basement level of the historic Dewitt-Seits Marketplace in Canal Park. It's a excellent place to literally hang out all day in. Wonderful local art and a wide variety of musical talent can always be found within. Right outside is where Dave and I would finish Grandma's Marathon. SO many good memories!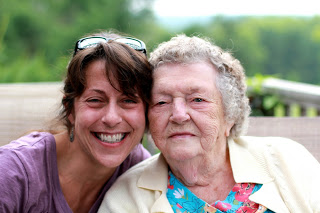 Fact#3:
This is a photo of my grandmother and I. She taught me everything a girl needs to know in order to manage a loving home and cook a good meal. I have never once heard her raise her voice or talk badly about anyone.
This picture was taken two summers ago during my parent's 50th wedding anniversary celebration. It was a wonderful week of family and fun. Yesterday my grandmother went into the hospital for congestive heart failure and complications from
COPD
. Please keep her in your thoughts and prayers. Her name is Ilene.
Fact#4:
I love to laugh. I especially love to hear my husband laugh. No matter how tough things get, we can always find something to laugh about. We both have a rather unusual and dry sense of humor. The last time we stayed in Duluth to spend our days at Amazing Grace, we got a really good deal at a fancy hotel. The kind where there's so much complimentary stuff that you can basically leave everything at home. The kind where they have fancy folded toilet paper. Well, I always hate to use that first piece. I've been known to use the tissues provided just to savor the fanciness of it all for a while. So, on this visit, I decided to create my own toilet paper art. Of course, just getting the idea while sitting there doing my job was enough to send me into a fit of suppressed giggles..."
Honey
, you okay in there?" "YES....fine dear...teeheheheheheh!" So, the next time my husband went in to "do his job, these are what he found. Don't ask...some of them simply fall under the category of "impressionistic modern toilet paper art".
Well, there you have it! Four things you probably did not know about me ten minutes ago! I sure hope you have a good weekend. Be thankful for all you have, smile at someone who really needs it and find the beauty in all that surrounds you. We have only one moment...one life... THIS is most surely a fact!