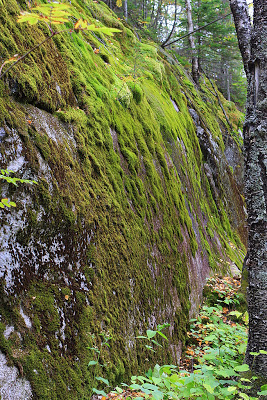 Boundary Waters Canoe Area September 2008
I thought the earth remembered me,
she took me back so tenderly,
arranging her dark skirts, her pockets
full of lichens and seeds.
I slept as never before, a stone on the river bed,
nothing between me and the white fire of the stars
but my thoughts, and they floated light as moths
among the branches of the perfect trees.
All night I heard the small kingdoms
breathing around me, the insects,
and the birds who do their work in the darkness.
All night I rose and fell, as if in water,
grappling with a luminous doom. By morning
I had vanished at least a dozen times
I love this time of year. I always have. There is something about the crisp air that enhances the smell of nature. As if Fall salts the earth so that everyone can get one last taste before winter. Taste this, she beckons. One last time, before winters blanket covers the pot.
Camping is something I have had to give up because of my illness. I don't spend much time being sad anymore. I find joy in being a voyeur of my own past. I had these things...and that is the gift I am grateful for. And it's mornings such as these - windows open to the chilly, just-above-frost air, birds migrating in and out of the pines announcing the arrival of the day, smells of wet earth wafting past my warm covers - that remind me of sleeping in the forest. Wrapped in my sheets I acknowledge my place in it all, melting into the comfort it brings. Falling into another place and time.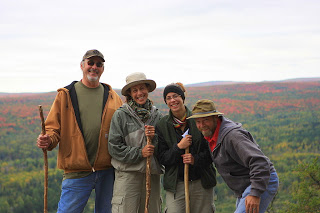 Dad, me, Amanda and Dave
One of my favorite ventures into the North included my husband, my father and my beautiful daughter Amanda. We took a week and headed up the the BWCA in early September.
The picture to the left was taken after we had spent the day hiking to one of the high points on the
Superior Hiking Trail
. It was a marathon experience and we were all very happy to have arrived. Sitting atop our stone balustrade, we slept, ate our lunch and shared holy moments of complete silence.
We kept slow on the journey. What need was there to rush? At one point, early on in the day, we decided that walking sticks were in order. My father, being the outdoors-man that he is, came prepared for such an activity and had just the tools. Here below you can see Amanda and I whittling away at the branches we all carefully selected along the path.
The sticks have been with us ever since.
I think that the best part about being up in the BWCA for me is the absence of thought. Not all thoughts...just certain thoughts. Like the thoughts of time, the thoughts of expectation, the routine thoughts that carry us through our day in an assembly line fashion - keeping us numb on the ride from point A to point B. As if the steward drops a Valium in your morning coffee.
It is the absence of these thoughts that makes space. It is the absence of these thoughts that gives opportunity - an open door to what is. The here and now, in full force. About fifteen years ago I took a trip to Europe. My first husband, myself and our three young daughters at the time, took off for three weeks and backpacked all throughout Europe. It was a life changing event for me. Each experience seemed magnified a thousand times. Foods, smells, people, architecture, sounds... all in a sort of hyper state in my mind. I came home with an entirely new perspective and it changed many of my priorities for ever. Life had more substance from that point on. Only until recently did I understand why. Being in a territory completely different from anywhere I had ever been, combined with the fact that I could not understand any of the languages being spoken - which meant I could not hear or read any TV or advertising nor could I understand the people that were talking around me - I had opened up space to wholly experience the present moment. A sort of disappearing to actually appear.
I don't think we do this enough in life.
Pema Chödrön
, in her book
The Places That Scare You
, talks about "shaking up the habitual patterns of life". Much of our suffering comes from residing in a place of mistaken happiness. The Buddha called this "mistaking suffering for happiness", like a moth that flies into the flame, destroying ourselves for temporary relief. Going through life numb is temporary relief.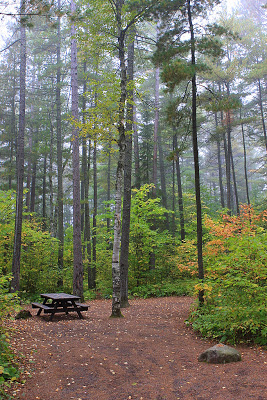 The tent is no longer there. But I am.
It only takes an open window, or the sound of geese ushering in things to come, or the memories of forest nights gone by, to shake up my life. Even as I sit here typing and reminiscing about my journeys into the woods, I find healing.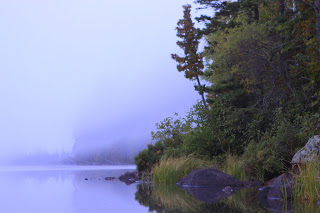 Like the unruffled fog that blanketed our last morning there, I am warm and comfortable in my place. Loss, pain, loneliness, boredom, fear, insecurity...they melt away. And in the end,
"I had vanished at least a dozen times
into something
better."
Peace.
~*~**~***~**~*~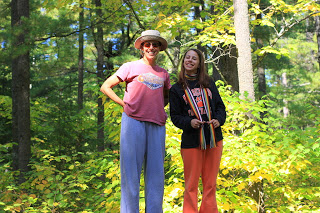 Amanda and I, standing on a large rock in the forest.
I love you, Amanda Rose. Thank you, for all that you
have taught me in this life.