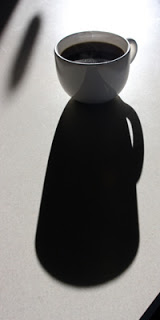 This is my favorite cup.
Almost every morning, unless one of my kids has absconded with it, this cup holds the coffee that brews before beds stir each day. No doubt about it, I love my coffee. I'm not so sure its the best thing for
me
, but it will definitely be the last vice to go!
This week that cup has been my best friend. Having made it through graduation last Saturday, we rolled right into a week of company - averaging about 20 people per meal. I am extremely fortunate to have a family that supports me and watches my every move, so help has been more than abundant. But as those of you with chronic illness know, it does not take much and we're basically suffering from post-marathon exhaustion. I say that in jest, but I can not tell you how many times I think back to my racing years in times like these. Setting my sights on the goal, putting my head down and stepping one foot in front of the other. It's all good. It's all extremely rewarding. And it's completely exhausting!
Two more days and the house will be empty...well, empty with myself, Dave, Anna, Evan, Emma, Sara, Maggie, Jake and Jenni (the last three are pets!). I will be extremely sad to see my family head down the driveway and back to Louisiana. It's a long way down the road to Mandeville. But at the same time I am filled with the contentment that comes from knowing how fortunate I am. Blessed beyond measure.
There will be lots to write about when the dust settles. My brain has been taking notes and capturing snapshots of moments that have flitted around this house like little field mice. There was a day when those moments would have been completely invisible to me. Overwhelmed and distracted by the need to do it all and to be everywhere, creating the perfect...whatever. But not this time. This time I was
here
. This time I heard the first "Aunt Theresa, can you...". This time holding a baby took precedence over dishes and playing Kings in the Corner was
way
more important than throwing in another load of laundry. This time...was all that mattered.
As I sit here, coffee brewing and all the mice still asleep, I am filled with a happiness that wells up in my throat and gently flows down my cheek. There is so much to be thankful for in this life - if we just look. It really is possible, brother. It really is.
Life is good.
~*~*~*~*~*~*~*~*~*~*~
Mother's are those wonderful people
that can get up before the smell of coffee in the morning.
~Unknown