Some days come much easier than others. That's a pretty generalized statement, I know. But so true, none the less. Some days life just seems to work out in our favor. And then other days...well, we just wonder, what the heck? We attribute it to things like bad weather, getting out on the wrong side of the bed and the infamous "them". You know, "them". Those people. The ones that work for the IRS, the ones that move our stuff, the ones that hide our socks and purposefully find us on the highway when we are in a hurry. Those people.
I write in jest. But for people living with chronic diseases - those "some days" cannot only be frustrating, but they can be painful, relentless and frightening. Those "some days" come when you least expect them. They come in the middle of your best days, they come at family gatherings, in grocery store isles, in movie theaters, at the gas station, in the car, while getting your hair done, on walks with your children...they come ten minutes after you have just taken a shower, curled your hair and picked out an outfit to have lunch with a friend. In fact, the best way to insure their arrival is to make any sort of a plan at all.
Last Friday I began having one of those days. The first indicator was an increase in neuropathy. Numbness and tingling, shooting pain, unable to balance on one foot, right hand doesn't work 'right'. And then the stiff neck...and then the headache...and then the vision problems...and then the diarrhea...and then the painful joints and muscles...and then the pancreas pain and eventually my heart starts to beat irregularly, sometimes leading to tachycardia. Not a pleasant experience at all.
I managed through the weekend pretty well. That's a Mom thing. Taking care of my family is good for me. It's good for my soul and it's good for my mind. But by last night, things had progressed and after only a couple hours of sleep, we were contemplating a visit to the ER. Have I mentioned how much I despise emergency rooms???
We made it through the night and were at the hospital by 7:00am for an already scheduled appointment, followed by IVIg. I figured if there was anything that needed urgent attention, they would catch it. After a lot of blood work and a couple of phone calls to my doctor's, it was agreed that we could proceed with IVIg. Being that this is also my chemo day... well, it was just one of those days. Except...
This is what I came home to:
A couple of months ago I finally made the decision to have someone come into our home on a weekly basis and help me with cleaning. It was a very difficult decision for me to make. Learning how to
give up control
take care of myself has been one of the hardest things for me. Little did I know that the women on the other end of that phone call would be such a beautiful person. Within moments of our meeting, I realized what a blessing Roxi is. Simply having her walk in the door, I am filled with the positive energy that emanates from her. Honest, kind, compassionate and SO easy to talk to, there is never a lack of things to say.
Somewhere in between cleaning houses, spending time with her children and grandchildren, church work, gardening, yard work and taking care of her own family - she prepared this meal for us. And this meal is not just
any
meal.
This
meal is a casserole made with fresh organic beef off the farm and tomatoes from her garden, canned pickled beets, home made buns and frozen sweet corn...from her garden, of course, and the most amazing looking home made apple pie I think I have ever seen. WITH apples from her trees!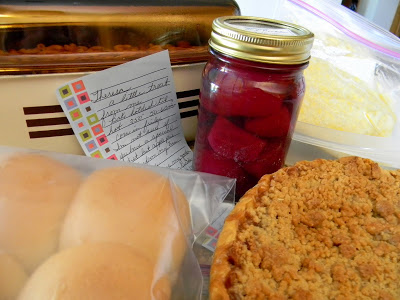 Mother Teresa has a quote that says, "We cannot do great things on this earth, but we can do small things with great love".
This was an act of great love.
And this day, this "one-of-those-days" kind of days, I am thankful beyond measure.
Oh, and by the way....
It was delicious!