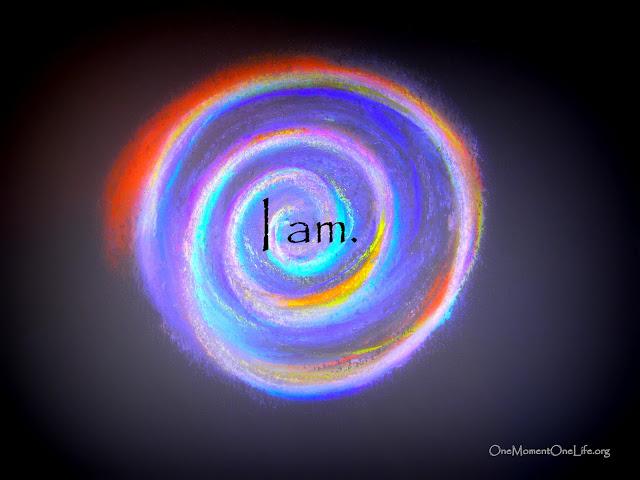 "Can you question who you are? And are you comfortable with not knowing?"
~ Jon Kabat Zinn
Being chronically ill can really play havoc on your emotions. In fact, research shows that chronic illness and depression almost always, at some point or another, go hand in hand. I fought this idea for a very long long time. In my mind, it was bad enough to be thrust into the category of "chronically ill people", I was NEVER going to add myself to the list of "depressed people". This I could control.
Well, I can't even begin to tell you all that is wrong with the above way of thinking. I also cannot tell you how painful it has been to come to this realization. Yet, at the same time, it's been each painful step that has lead to the beginning of my freedom from this suffering. How so? Well I'll tell you two very important things that I have learned.
First of all, I had to get over myself. Labeling is wrong. Period. For more reasons than I can even mention in this post. We have this habit of experiencing life and then carefully putting those experiences in categories that we label as "good" and "bad". Had a pleasant experience at the DMV...good. Had to wait for my prescriptions for over an hour...bad. Today I heard from an old friend...good. Today no one commented on my facebook status...bad. My children spent time with me after our evening meal....good. My husband had to work late...bad. And so it goes...every day, all day long, for our entire life. We experience things, we label them, we tuck them away in our minds as facts. Some of this labeling serves a very good purpose. It keeps me from making decisions that could be harmful to myself or others. But quite often, our labeling serves no purpose at all and actually lends itself to the harm of my self or others.
Then, without even knowing it, we make decisions based on what our minds believe to be fact. For example... if I had a pleasant experience at the DMV I may choose to tell others how wonderful my counties DMV is. I may offer to go to the DMV for my husband next time the need arises. If I had to wait for my prescriptions for over an hour, I may tell my friends how horrible our Walmart pharmacy is. I may even change where I send my prescriptions to and ultimately have to drive extra miles just to pick them up. And let's say my husband has to work late...again. I may tell myself that he does not care about how difficult it is for me to put supper on the table without him. Worse yet, I may begin to tell myself that maybe he has had enough of my illness and is somehow falling out of love with me. Which leads to insecurity, which then leads to anger or maybe even resentment, which leads to me becoming short with him or verbally questioning his motivations.
So, second of all, what we need to realize is that our thoughts are not facts. Our thoughts are our experiences, often times hijacked by our emotions, labeled as good and bad and tucked neatly into categories in our minds. Without having to go into a lot of detail, you can easily see how our experiences can be misinterpreted. And it goes without saying that illness, medication, depression can all have a significant impact on how we label our experiences. As Jon Kabat Zinn so eloquently puts, "Stop living My Story. Liberate yourself from all of your bullshit". I simply am not the sum of my experiences.
So then, what am I? Who am I? This question never seemed so frightening as it did once I became sick. But it doesn't have to be sickness that brings this question to life. It could be the end of a marriage, it could be the loss of financial security, it could be death of a loved one, it could simply be old age. At some point in all of our lives, the identity we cling to lets go and all hell breaks loose. Who am I if I can't provide for my family? Who am I if I no longer have my health? Who am I if I loose my friends? Who am I if my spouse dies?
We seem to get through these losses, as difficult as they are, as long as something else remains for us to cling on to. But sometimes life takes away everything. And then what?
I have by no means lost everything. In reality, only death can do that, as far as the physical world is concerned. But I have lost enough to struggle with the question of Who am I. And it was not that I all of a sudden thought, "Oh my gosh, who am I?" It was much more subtle than that. The question came to me in the form of depression. And this depression made itself known to me in the form of anxiety. An anxiety that every so quietly entered into my life creating havoc with an already complicated illness. And what I found out is that the only way to get rid of that anxiety is to let go of knowing.
We hold onto knowing as if our lives depended on it. When in reality, it is the NOT knowing that brings true life. If we are preoccupied with who we "know" ourselves to be – I am this, or I am that – if we conclude that we are only the sum of our life experiences – then who we are becomes completely limited. When we end the sentence simply at "I am.", then who we are becomes completely limit-LESS. Liberate yourself from self-identifying and you will find that life is so much greater than you could have ever imagined it to be. You will find that instead of being "let down" or continually disappointed by life, you presented with a never ending list of possibilities.
For me, I am no longer defined by my illness...or by my ability to run marathons, or by the wonderful mother that I am, or by being the wife of an amazing man, or by my painting, or....
I simply am. And that makes me everything.
Peace,