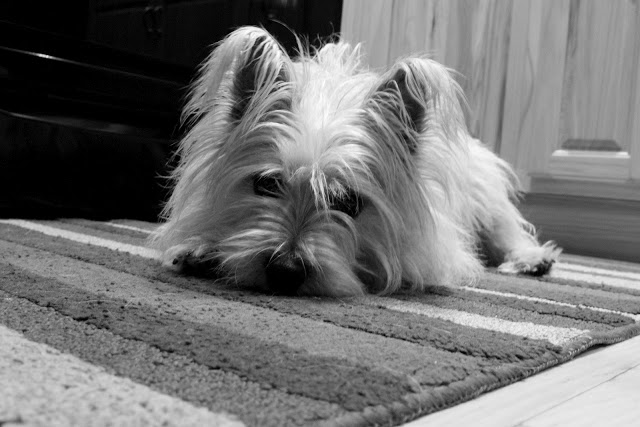 "The spiritual life is about becoming more at home in your own skin." ~ Parker J. Palmer
This quote was in my Book of Awakening the other morning. As I read it, I looked over at Jake the dog and thought to myself, there is no one in our home more "comfortable in his own skin" than Jake the dog. Nothing much bothers Jake. Quietly unassuming, disheveled...always there. Jake knows what it means to "go with the flow" and no matter what, loves unconditionally.
As Parker Palmer suggests
, all spiritual paths help us to live more fully in the lives we were given. When people ask me how it is that I deal so well with all of my illnesses or they want to know what they can do to better live with the "lot" that they have been given, I always take pause before I answer. Not because I don't have an answer, but because the answer I have is one that is of great importance to me and I want the words spoken to to be as helpful as possible.

I watched a home improvement show the other day where the previous owners of an old home had built a new wood deck over the top of an old existing front porch at least 100 years old. The new deck, which should have lasted 30 years, was crumbling before them. This is what we do in our lives. We put on clothes that make us feel better, we try fad diets that take off pounds in less than 30 days, we post positive thinking lists on the sides of our computers, we read How To books and take on the identities of the "guy that found the answers"...we build our new decks over the top of our old porches every day. It's not until we make our changes to the foundation that we can withstand whatever walks across our lives.

What changed my life, what helps me to live more fully in the life I have been given, what has had the absolute most profound impact on me has been my connection to the spiritual. The spiritual is anything that removes what grows between our hearts and the present moment. It could be the face of a child, the look of a loved one, the realization of our impermanence as we watch a robin build it's nest. The spiritual is everywhere, waiting for us in all that we do. By connecting to it we connect to ourselves, and by connecting to ourselves we heal our very foundation, making ready for whatever the day brings.
Like Jake the dog, we become comfortable in our own skin.
Theresa