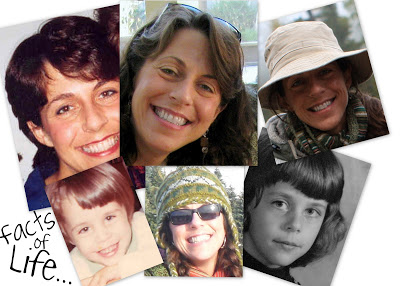 Well, despite the weird glitch that prohibited you all from posting any comments for a few days, this turned out pretty darn good! Many of you were creative and figured out how to email me, so
THANK YOU
! One thing that did come out of this minor debacle is the little red envelope you see at the top of the page. If you click this, it should take you right to my email. So if this ever happens again, feel free to click away. Or anytime, for that matter!
I
LOVED
all of your responses!! Some marvelous conversations grew out of them and I even got a picture or two...of
YOU
! Here are a few snippets I'd like to share...
"Hi friend! How can I know you for SO long and not know that you do not have a tummy button!?!? I guess for one....I've never looked and in what sort of conversation does that come up?!?! Ha! I did have to laugh about that."
"I am so blessed and have so much to be thankful for."
"Some things on my 'bucket list' are:
Swim with the dolphins
Go sky diving
Hold a chimpanzee
See wild mustangs
See a glacier fall
See whales in the ocean
And the list continues............"
"I am a 15 year cancer survivor (24 yrs. old when diagnosed with Hodgkin's Lymphoma)."
I have never ever drank a cup of coffee, despite years working as a nurse on the night shift.
My dream is to go to Ireland someday!"
"I had two brothers and one sister (I lost one of my brothers when I was 16, he was 18), my grandmother raised me, I volunteered in my youth in a hospital and on the first aid squad, and I love food and to take pictures."
"I'm afraid of flying."
"I sleep with socks on, summer or winter."
"I've always wanted to pet monkey."
So, here goes
WEEK #2
...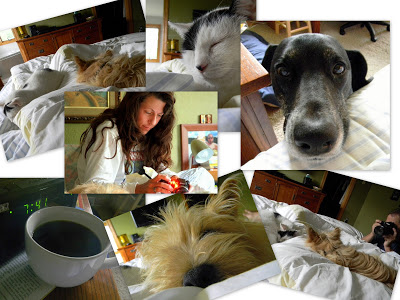 THIS
is my absolute favorite way to wake up in the morning...very slowly, with my husband, a cup of coffee and all the animals. It can take up to three or four hours for me to actually remove myself from the bed on these days. Thousands of pictures can be found in this disheveled 5' x 7' space, each one of them capturing moments of simple life - silly, quiet and holy.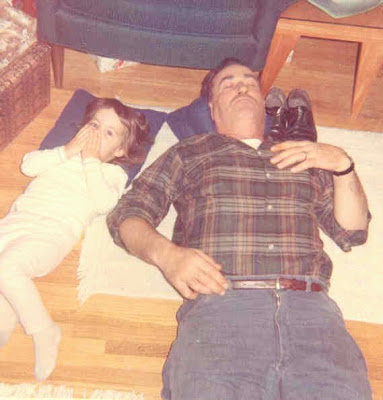 THIS
is me and my Grandpa Elliott.
This man could fall asleep faster than the speed of sound, on any surface, in any climate, with anyone around...including me. He was the master of the 10 minute nap, and I adored him. My childhood summers were spent on their farm place and I followed him around just like one of the many kittens that could be found outside their kitchen door. He taught me how to fish, how to pound nails, how to sneak cookies out of the package before you check out at the grocery store and how to properly eat sardines at midnight...watching old movies.
When I think of the good things in life...I think of my moments with him.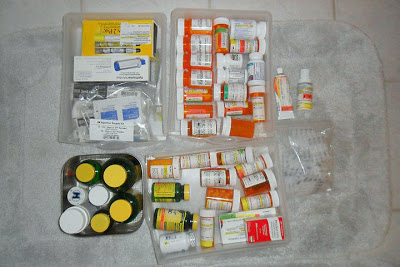 THIS
is a picture of my medications.
I currently take 33 pills a day and receive bi-weekly infusions of IVIg. I
DISLIKE THURSDAYS IMMENSELY
, because this is the day that my weekly pill holder runs out. I've been known to wait until Noon to take my morning pills out of shear laziness. In fact, it's Thursday as I type this...10:05am...and I have yet to take a pill.
I'll pay for it later.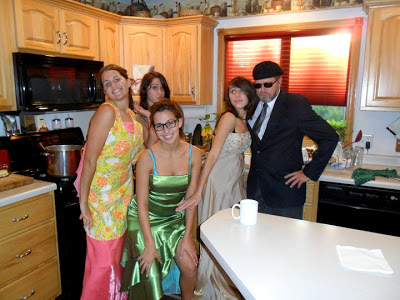 THIS
is my wonderfully crazy family...or at least
part
of them. On this particular day I was very sick and so my oldest daughter (the one in the apron) drove to our home after work (two hours in the opposite direction of her home) to cook supper for all of us. They decided to "entertain" me and dressed up in old prom dresses. My husband, the
GREAT
sport that he is, played the part of Raúl. I'm still not sure who that is??? There is
NO
lack of imagination in our home, and play is a regular item on the agenda!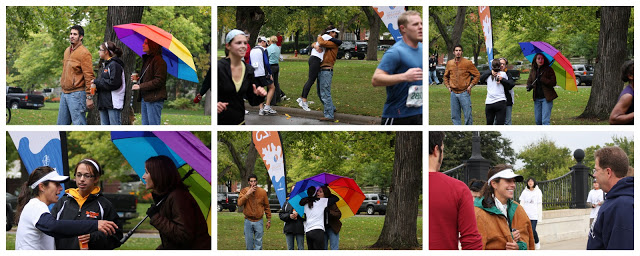 THESE
are pictures from the 2008 Twin Cities Marathon. It was the best marathon of my life, finishing just over 3 hours and 39 minutes. Totally unprepared, I ran as a bandit that year for a women that had to bow out at the last minute. My time would have been good enough to qualify me for the Boston Marathon.
This is also the day that I got sick. The end of over 30 years of running.
These are also pictures of my children and family waiting hours in the cold rain, right around mile 20, in order that they might cheer me on.
They're still cheering.
Now it's your turn!